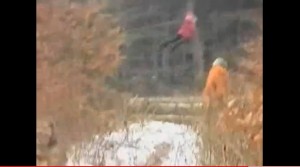 GT reader Paul R. forwarded me this video that was shot in Russia of a supposed levitation act caught on camera.
The video was shot by a Russian man, who appears to be playing with his dog in the local woods. Upon chasing his dog around some bushes, his camera catches a few seconds of an adult and a young child a few yards away. The adult is standing facing the child, while we can see that the child seems to be levitating right in front of the adult. Yea, you read that right.
I'm not a believer in levitation. Well let me rephrase that: I don't believe that living creatures can levitate.
This video, although creepy, looks very real. I wouldn't be surprised if this is a viral video for some upcoming film. Maybe even a well done hoax. Regardless of my speculations, this is pretty cool!
Anyone know more information on this video?

The following two tabs change content below.
I'm a writer, a runner, and a hell of a coffee drinker residing in Los Angeles. I'm currently working on a book about Doris Bither and her terrifying account of a haunting in Culver City, California. The case was dubbed "The Entity" and it stands to be one of the most controversial cases ever to be studied by parapsychologists.
Latest posts by Xavier Ortega (see all)