Home » Headline, UFOs
'Pear-shaped' UFO Witnessed In Scotland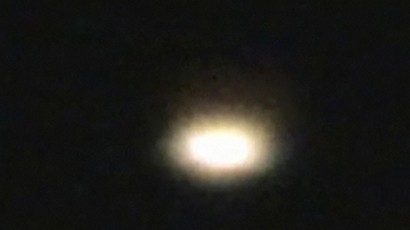 "Pear-shaped" UFO? Don't they mean "bell-shaped" ?
I've heard of plenty of oddly described UFOs across the world. Cigar, lemon, disc, bell, triangle, rectangle, cross….the list goes on and on. According to STV News, a Scottish man reported a "pear-shaped" UFO while driving about. According to UFO expert, Ron Halliday, the number of sightings in the East Kilbride area have increased. This could be the new 'UFO hotspot'.
Anyone from Scotland heard of the sighting?
Full source: STV
A motorist on the East Kilbride Expressway has reported spotting a mysterious object in the sky.

George King reported the mystery on the UK UFO Sightings website, following his unexplained sighting on Sunday, January 2 at around 8pm.

He said: "I was sitting in my car, facing west, when I noticed two orange lights – one smaller than the other – flying low.

"I thought it was a police helicopter but it kept coming with no noise and suddenly shot up skywards right in front of me.

"I jumped out of car to phone my son and to the left of me I saw a large, pear-shaped, bubble type thing heading towards Hamilton/Strathaven."

UFO expert and author Ron Halliday said: "There have been a number of sightings in the East Kilbride area, certainly since the beginning of this Millennium. It is somewhat of a hotspot for UFO activity, with a regular series of sightings.

"It is an intriguing sighting. There have been a number of odd objects seen in that area, strange things such as a coffin shaped UFO. Lights in the sky and moving off at a high speed both fit the patterns of a typical UFO report.

"Pear shaped is a new one to me, although 'bubble' shaped things are often described as looking like space crafts."
The following two tabs change content below.
Based in Brooklyn, NY, I write about all things creepy and strange. My book based on the real haunting of Doris Bither (The Entity 1982 movie) will be released soon. Got a question? Drop me a line.
Latest posts by Xavier Ortega (see all)