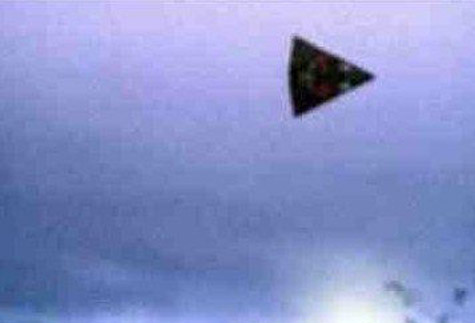 I previously posted about the "Dorito UFO", as the media has dubbed it, and received a large amount of messages from people who have seen a similar craft/object in the nearby areas.
Well today, Express&Star news site has posted more sightings of the triangle shaped craft.
Reports of triangle shaped UFOs are common. The reports come from all over the globe, and go back for centuries. Can there be something otherworldy flying about the skies of Dudley?
Full source: Express&Star
A fresh sighting of a triangular UFO dubbed the "Dudley Dorito" racing through the skies has been reported in the Black Country – and this time it seemed to bring a friend.

Security officer Glyn Richards was having a cigarette in the garden of his home in Coppice Lane, Quarry Bank, when he saw a mysterious object with flashing lights in the sky, appearing to travel towards Dudley from Halesowen.

Moments later, he said, another UFO with a steady white light appeared and seemed to chase it off.

"I never really believed in anything like that, but it was no helicopter or plane that I've ever seen," said father-of-two Mr Richards, aged 33. "I had a perfect view of it for around 20 seconds. It had flashing red lights in the centre and white lights at the end. Then another thing with just a bright white light appeared and it looked like it scared it away as it shot off in a perfectly straight line."

It is the third reported sighting of the Dorito in as many years.

Mr Richards said he had called his nine-year-old daughter and seven-year-old son out of the house to see the objects, and following the sighting, which happened at around 7.45pm on Monday, they logged on to the internet and discovered previous sightings of the UFO on the Express & Star website — along with its own entry on Wikipedia.

"I was shocked but it was quite exciting as well — it was probably just a military plane or something but it's interesting to think it could be something else," he said.

In November, quality inspector Munesh Mistry reported seeing the triangular-shaped object in the skies near his home in Andrew Road, Tipton.

The object has also been spotted hovering over the Merry Hill Shopping Centre in Brierley Hill — and in February last year a UFO sighting was recorded by Sean Gibbs-Percival over the skies of Oldbury. On April 16, 2009, builders working at West Midland Safari Park were shocked to see a flying saucer-shaped object soaring above them.
19 comments