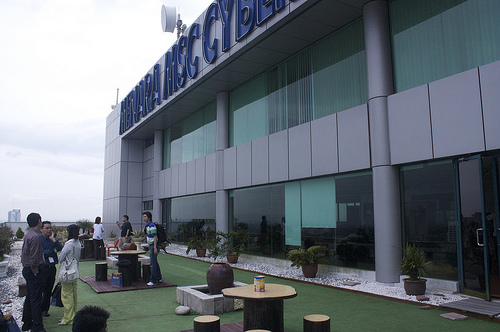 The Menara Cyberport in Malaysia is said to be so haunted, that most employees have had a brush with apparitions and strange poltergeist-like activity in the office building. Although stories of a haunted workplace are rare, the ones that I have read about usually are not of hauntings, but of poltergeists. There is almost always a person in the building who is subconsciously manifesting this psychokinetic energy. I wonder if that is the case here.
Then again, I also wonder of this is a real poltergeist case, or just another case of mass hysteria.
Full source: The Star
JOHOR BARU: It was shades of Ghostbusters in the towering Menara Cyberport here when paranormal exterminators came to "chase away" demonic spirits said to have haunted the building which houses the city's courts.

In one instance, a court employee became hysterical when she reportedly saw several apparitions in her office.

Senior court officials, not taking any chances, sought the help of a bomoh to "cleanse" the 30-storey building of "dozens of spirits and ghosts".

There are at least eight civil courts housed in the building at Jalan Bukit Meldrum here. The Health Department also places some of its units here.

A court policeman claimed the ghostly incidents occurred shortly after the courts moved into the building, formerly called Menara Sarawak, in January.

"A court employee went into hysteria after she 'brushed into' a ghost.

"Several others had also seen ghosts or doors opening or closing on their own," the policeman said.

A court interpreter said many staff members were shaken by such incidents and sought the help of a policeman, who acted as a medium, to get rid of the spirits.

There has since been no sightings, the interpreter said.

Former Johor Bar chairman K. Balarajah admitted he had heard of some strange happenings in the courtrooms.

"I received at least three complaints from lawyers about strange occurrences and sightings at the building," he said, adding that the judges had also expressed their uneasiness about the matter.

"I have been there a few times but have not experienced anything personally," he said.