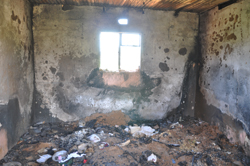 When I read stories about spontaneous fires plaguing a home I don't immediately think that it's paranormal. My first thought is that there is human intervention with these 'phantom fires'. Not being cynical or anything, but most reports that I've read about these 'phantom fires' usually turn up to be some family member who is setting furniture on fire in a desperate attempt at getting attention. Usually this is the case when large families are involved and children tend to feel left out or unimportant.
In Botswana there are some news of a family of eleven people who currently are homeless due to mysterious fires burning their home and with it, all their belongings.  There is nothing that the family can do to stop these mysterious fires from consuming their belongings. Witnesses have seen the fires start in a room where there is no electricity and when the family is not even home.
I'm not a person that believes in spontaneous human combustion or that a human body is biologically capable of such anomaly, but yet somehow I do believe in the existence of psychokinetic energy. If a person can poses a high level of PK energy, I think that the possibilities for them to manipulate, or extend, the laws of physics (as we understand them to be) is great. What if this person is a young child with a high hormonal imbalance and is angry at his family. Bottling all his frustrations can cause PK to erupt with heavy consequences. Poltergeist activity.
Full source: The Voice BW
Family devastated after third mystery blaze

A family of eleven is begging for help after a series of mysterious fires destroyed their property and left them homeless.

The latest in a trilogy of devastating blazes occurred this week when a remaining storeroom and the police tent in which they had been sheltering also went up in flames.

The unexplained fires that have been tormenting the family in the Southern District village of Goodhope since January, has baffled police investigating the incidents.

"We are as much taken aback by this as the unfortunate family. The problem is the fires erupted when there was nobody at home," explained Goodhope Police station Commander, Thapelo Ngiye.

Sadi Victorious Kgasa of Ramarumola ward together with her family, have been allowed a temporary sleep over at the village's old vocational training centre by the tribal leadership.

"The facility still has beds in the old hostels and that is where we sleep," explained the 53-year-old Kgasa.
Much of the family's property including the main house, beds, blankets, food, clothing and furniture were gutted during the January fire.

The family has a three-roomed house at the back of the main house that they rent out, although the tenant allowed them to use a room to sleep in following the first incident. Then on 1 March disaster struck again as the room caught fire and completely gutted the remaining property.

"Even the clothing and other charity items we received following the first fire has been destroyed. The mystery is that the room did not have electricity and nothing was lit when it caught fire. There was nobody home and the fire broke out around the same time as the first," Kgasa added.

The family had been surviving on food donations from family and friends, but this too was lost in the latest blaze on Wednesday.

As suspicions abound that the fires were the cause of a demonic curse, a Pentecostal church leader was expected to visit the family on a spiritual intervention mission.

"What else is there to believe? Somebody or something out there is intent on making us suffer," Kgasa said.
She told the Voice team that visited her on Monday: "We called you here because we know people will read your paper and help us. We desperately need to rebuild our house and we also need clothes, so we are asking for Good Samaritans out there to please assist us."
5 comments