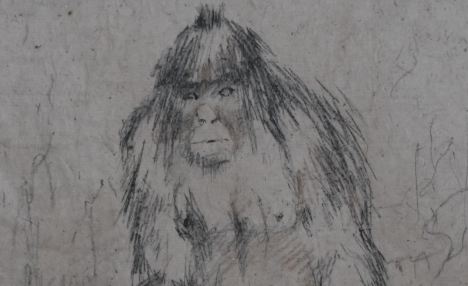 With the vast amount of eyewitnesses coming forward claiming to have seen the elusive Yeti, Russian scientists decided to setup a "Yeti Institute" at Kemerovo State University. The eyewitnesses claimed to have witnessed the Yeti stealing their farm animals. Dr. Igor Burtsev interviewed the locals and has had many years of experience on the subject.
Of course, we here at GT have covered some of Dr. Burtsev's work in the past. Throughout the years I remain convinced that Dr. Burtsev has a major fault. He tends to build some sort of rapport with his eyewitnesses. Do you guys remember Fox the Bigfoot? Maybe you might remember the claims of Janice Carter. How she has had a close relationship with a large family of Bigfoot. Dr. Burtsev remains convinced that Janice Carter is telling the truth, so much so, that he has spent months visiting Janice in hopes of documenting the case. The results? Nothing. Just the stories of Janice Carter, which if you read or watch any documentary on the case, it leaves you believing that Janice lives in a fantasy world.
But that is only one case. I've seen several dozen reports from eyewitnesses and Russian officials claiming to have witnessed the Yeti. Hopefully with this new research team and facility, the scientists can get more funding at trying to figure out exactly what it is that people are seeing in the Russian wilderness.

Full source: Daily Mail UK
Russia is setting up a university research institute to study the Yeti after a spate of claimed recent sightings in Siberia.

Scientists say they have found 15 witnesses in the past year who gave statements that they saw the Abominable Snowman in one remote area .

'We spoke to local residents', said Dr Igor Burtsev, who conducted an expedition last summer and will head the new institute at Kemerovo State University. 'They told us Yetis were stealing their animals.'

The academic claims around 30 Yetis live in a remote region of Mount Shoria in in southern Siberia.

He strongly denies accusations that the 'sightings' are a bizarre ruse to attract tourists to the far-flung region.

Reports say the two-legged creatures are heavy-set, more around 7ft tall and resemble bears.

'Their bodies were covered in red and black fur, and they could climb trees,' said one account.

One villager, Afanasy Kiskorov, even claimed to scientists that he rescued a Yeti on a hunting trip a year ago.

The creature was screaming in fear after falling into a swollen mountain river, he said.

His version suggested a 'strange creature, looking like a huge man which tried several times to get out of water and to stand up on both feet, but dropped into the water each time and was howling'.

As his fellow-hunters 'froze' in amazement, Kiskorov held out a dry tree trunk.

'The creature clutched to it and crawled to the bank,' he said.
The Yeti allegedly then ran off. This 'sighting' was in the Tashtagol district of the Kemerovo Region, only accessible by helicopter. However, no photographic evidence exists.

Other accounts say the Yetis steal hens and sheep from remote villages.

According to Burtsev, Yetis are Neandethal men who have survived to this day

related]

'In Russia there are about 30 authoritative scientists who are engaged in studying the phenomenon of the 'Abonimable Snowman'. All of them will be

integrated into this institute,' said Dr Burtsev.

The 'primary goal' is to 'establish contact' with one of the creatures.

Leading Russian scientists deny the existence of the Yeti. An expensive Soviet expedition in central Asia found traces but no clear proof of the existence of the Yetis.

Read more: http://www.dailymail.co.uk/news/article-1368898/The-cold-paw-Russian-scientists-set-Yeti-institute.html#ixzz1HXTlZyCR
3 comments