A South African town is being plagued by reports of a 'shape-shifting monster' according to News24. The town of Karoo has had many reports filed to its police department about sightings of a creature who at times changes from a man, to a pig and to a bat. I'm not joking, the police are looking into the sightings
Full source: News24
Steytlerville – Steytlerville, a small Karoo town, is being plagued by rumours of a shape-shifting monster, Eastern Cape police said on Thursday.

"The community says that the monster changes shape while you are looking at it," Warrant Officer Zandisile Nelani said.

He said one man had reported it changed from a man wearing a suit into a pig and then into a bat. The creature had been sighted on a number of occasions near a church and only appeared at night, Nelani said.
Local residents met with police last week to discuss the strange phenomenon.

View Larger Map
Nelani said he had asked people to take a photograph of the alleged monster. Although some locals were frightened of it, it had not harmed any people or livestock.
There is even talk about some residents having photographed the beast while at rest on a tree. WeeklyWorldNews reports that multiple witnesses have seen this creature change from a man wearing a suit to a pig.
Full source: WWN
JOHANNESBURG, South Africa – A monster plaguing the town of Steytlerville struck again over the Easter!

There were two sightings of a terrifying shape-shifting monster reported over Easter in the province of Karoo in South Africa.

"Two men were walking near a tavern when they saw another man wearing a black jacket. One of the men, identified only as Nozipho, went up to the stranger and asked him, "What is your problem?" said Nelani.

When the stranger did not respond, Nozipho went closer and saw that the man had no head. The man then turned into a dog that was "very angry" and "as big as a cow", Nelani said.

He said that as Nozipho and his friend ran away, the monster allegedly turned on another group of people in the same road. "They said it turned into a big monkey, and then it was gone," Nelani said.

He said that since the monster was spotted near the tavern, people were afraid to go there at night.

Residents told police that the monster changed shape when someone looked at it. One man had reported that it changed from a man wearing a suit into a pig and then into a bat.

Many eyewitnesses said that the monster could also fly. Previously, the monster had only been spotted near the church. It had even been seen peering through the windows during a service, but had vanished by the time the congregation came outside.

Nelani said that the community had dubbed the monster "Bawokozi", meaning 'brother-in-law'.

Citizens are up in arms and having meetings with the Eastern Cape police – they are panicked for their safety.

Bawokozi has also been said to have changed from a man in a suit to a pig and to a bat! Until today, no citizen had been harmed, however the bodies of three local farmers were discovered earl this morning. They had been torn to pieces by the monster.

Sightings of the monster began over a month ago when it was seen by mourners attending two separate funerals, Nelani said.

A photograph has since been taken of the monster resting under a tree. WWN is working to get that photograph soon.
I think with all the commotion going on regarding this subject, we must remember to remain calm and digest the information being handed to us from afar. Sightings of a man wearing a suit and morphing into a pig and the, sometimes into a bat can only mean one thing; Manbearpig is alive!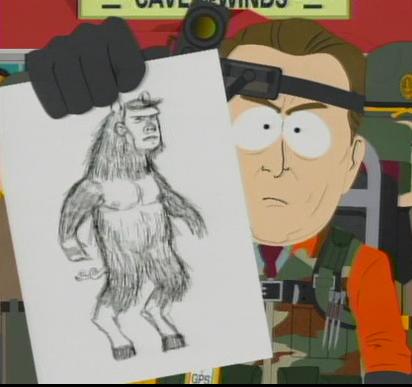 24 comments