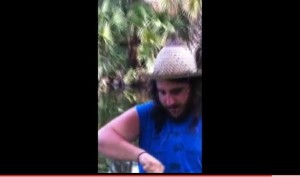 The following video was uploaded to YouTube a few days ago. It supposedly shows a Bigfoot in the far background, as a man poses in front of a camera, holding up a fish he just caught. There is something sinister about this clip, and it's not the lurking Bigfoot.
The video was shot by the New Orleans Bigfoot Society (N.O.B.S.) and according to their website they have been "searching for Sasquatch in the swamps of Southeast Louisiana since 2001". Which is funny because in all my years of writing for GhostTheory, for the life of me I can't remember ever reading anything about N.O.B.S. Not a single time.
A quick check on the N.O.B.S. website and I find out that there domain was just registered but a few days ago:

Domain Name: NOLABIGFOOT.COM
Registrar: ENOM, INC.
Whois Server: whois.enom.com
Referral URL: http://www.enom.com
Name Server: NS2831.HOSTGATOR.COM
Name Server: NS2832.HOSTGATOR.COM
Status: clientTransferProhibited
Updated Date: 06-jun-2011
Creation Date: 06-jun-2011
Expiration Date: 06-jun-2012
But one doesn't even have to get all technical to see that this is clearly a hoax. Look at the comical introduction of professor "Xavier Jenks", who claims to have a Ph.D in Biology and Cryptozoology. Ha ha!
And then there's the video. My god, if that isn't bad acting…I don't know what is.
The man who appears in the video fishing, reels in a lifeless fish and proudly displays it to the camera. All the while behind him is a lurking Bigfoot.
These types of hoaxes are detrimental to any Fortean field of study. Here we have a couple of guys who wanted to make a video go viral and make some money off it. What they don't understand is that this is why Cryptozoology, Ufology and the paranormal have such a difficult time breaking into mainstream science. When these hoaxes start to infiltrate the mainstream media, then we can pretty much kiss any chances of government funding going into these fields.
Remember reading about how the canceled the parapsychology department at UCLA?
So for some people, this is all just a joke and want to make a quick buck exploiting the paranormal. To those who look at science for answers to this world's mysteries, this is an important quest to learn about evolution, biology and our future as humans.