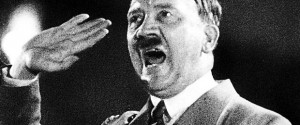 Not entirely turn him into a woman of course, but a new book by Professor Brian Ford from Cardiff University details some bizarre plans that the allies had for dealing with the Führer.
Secret Weapons: Technology, Science And The Race To Win World War II. The title alone makes me want to go out and buy the book. According to the author:
"There was an allied plan that they would smuggle oestrogen into Hitler's food and change his sex so he would become more feminine and less aggressive.

"Their research had showed the importance of sex hormones – they were beginning to be used in sex therapy in London.

"The plan was to give sex hormones to Hitler and counterbalance his unnecessary aggression."
So no, the allies did not plan on storming into a German bunker, dragging Hitler out and forcefully putting a dress and makeup on him. This was a plan to lace Hitler's food with estrogen, in efforts to bend his out of control aggressiveness. Which if you really think about it, MIGHT have worked on Hitler. We all know that high levels of estrogen has been found in the food that sent out to prisons across the United States, in efforts to control the aggressive male prisoners. But would that plan have really worked on someone as deranged as Hitler?
Full source: Wales Online UK

Bizarre plans hatched by the allies to win the second world war have been revealed for the first time – including a plot to turn Hitler into a woman.

Allies thought by smuggling female sex hormones into the fuhrer's food they could turn him into a woman and curb his aggressive impulses.

The plot was just one of a number of wacky schemes cooked up to break the war's stalemate, according to a new book by a Welsh-based author.

Others included dropping glue on Nazi troops in an attempt to stick them to the ground, as well as creating bombs made to look like everyday tins of fruit and chocolate.

The hare-brained schemes are revealed for the first time in a new book called Secret Weapons: Technology, Science And The Race To Win World War II.

They have come to light now because of the publication of new documents not previously seen because of their sensitive nature.

The book is authored by Professor Brian Ford, a fellow at Cardiff University and pioneer of popular science.

He said the allies were deadly serious about turning the evil Austrian transgender – to be more like his placid sister Paula.

Professor Ford said: "There was an allied plan that they would smuggle oestrogen into Hitler's food and change his sex so he would become more feminine and less aggressive.

"Their research had showed the importance of sex hormones – they were beginning to be used in sex therapy in London.

"The plan was to give sex hormones to Hitler and counterbalance his unnecessary aggression."

Professor Ford said the plan was perfectly plausible because British spies were in place to lace his food with the hormones and it would have avoided detection for months.

"In fact it was found there were agents who would be able to get it into his food," he said.

"It would have been entirely possible.

"He had testers who used to taste his food. There was no mileage to putting poison in his food because they would immediately fall victim to it.

"Sex hormones were a different matter. They only affected you if you took them for weeks or months on end so no-one would have realised the hormones were in the food."

And Hitler's sex change was not the only trick they had up their sleeve.

Another tactic saw allies draw up plans to drop boxes of poisonous snakes on the enemy, while they also spent fortunes developing a calamitous explosive-laden cart for an assault on Normandy – called the Great Panjandrum.

Read More http://www.walesonline.co.uk/news/wales-news/2011/08/13/bizarre-plans-by-allies-to-turn-hitler-into-a-woman-revealed-in-new-book-91466-29230095/#ixzz1V7m8hwE0
5 comments