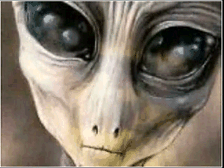 Want Obama to spill the beans about ET?
Simple. Just sign this petition and presto! The White House will release thousands of classified files on UFOs and information of extraterrestrials that live here on earth…if only it were that simple.
A new petition under the "We the People" initiative was setup by the Paradigm Research Group in efforts to get the government to talk about aliens. At first, the petition required only 5,000 signatures, but as the word began to spread, it quickly surpassed the threshold and was raised to 17,000. The signatures required have a deadline –October 22, 2011– and if that threshold is met, then the Obama Administration will "review it, ensure it's sent to the appropriate policy experts and issue an official response."
Which doesn't mean anything really. I mean, does the Obama Administration even have that kind of information? Does that information even exist? Either way, you can sign the petition here.
Disclosure Petition – Paradigm Research Group

"We, the undersigned, strongly urge the President of the United States to formally acknowledge an extraterrestrial presence engaging the human race and immediately release into the public domain all files from all agencies and military services relevant to this phenomenon."
Source: DailyMail UK
The search for intelligent life beyond the stars has landed on President Obama's desk.

More than 7,500 people have signed a petition asking the White House to 'formally acknowledge an extraterrestrial presence engaging the human race and immediately release into the public domain all files from all agencies and military services relevant to this phenomenon.'

It's a move that UFO conspiracy theorists and true believers hope will lend some legitimacy to their cause.
If the petition gets 17,000 more signatures by Oct. 22, the White House has promised to respond.

An Obama Administration initiative called 'We the People' will enlist White House staffers to research and consider taking action on any issue that receives at least 25,000 online signatures.

The threshold was originally just 5,000 signatures, a number that the UFO petition reached in four days, but the White House increased that number Monday.
The petition was created by Stephen Bassett, who has been lobbying Washington on the UFO issue for 15 years.

He said the few thousand signatures he has collected so far will mean relatively little.

'I knew we'd get at least 5,000. That's easy. The question now is, can it go viral? If it goes viral and we start rolling in some really big numbers, who knows what'll happen,' he told the Herald-Tribune in Sarasota, Fla.

On his website, Bassett urges web masters and social media users to post links to the petition that say, 'Make it go mega-viral.'

The petition says hundreds of officials have publicly confirmed human contact with alien life. It also claims half of Americans believe in UFOs and extraterrestrials.

'The people have a right to know. The people can handle the truth,' the petition says.

The We the People project has dozens of active petition. The one with the most signatures, 51,000, asks to legalise marijuana and regulate it like alcohol. Other popular petitions include requests to abolish the Transportation Security Administration and investigate the federal prosecution of the former CEO of the country's largest Kosher meat processing facility.

Read more: DailyMail UK