The Toynbee tiles (also called Toynbee plaques) are messages of mysterious origin found embedded in asphalt of streets in about two dozen major cities in the United States and four South American capitals. Since the 1980s, several hundred tiles have been discovered. – Wikipedia
Toynbee tiles
An American mystery that has remained unsolved for the last few decades. The Toynbee tiles first appeared in the early 1980s on busy streets across the United States. These signs, or placards, mysteriously appeared caked onto the asphalt in certain cities. More mysterious than their sudden apparition, was the cryptic message that these tiles carried:
TOYNBEE IDEA
IN Kubrick's 2001
RESURRECT DEAD
ON PLANET JUPITER.
Not all of the tiles carried the same message. Most of them had a variation of the above message. Most talked about "resurrecting the dead on planet Jupiter" while others had a more ominous message:
AS MEDIA U.S.S.R. AND FRONTS ARE AGAINST IT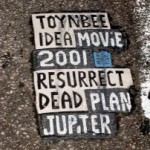 The sometimes colorful tiles are said to be composed of layered linoleum and some asphalt crack-filling compound. The messages that these tiles contain are what makes this a great mystery. It's obvious that the tiles make reference to Stanley Kubrick's 1968 '2001: A Space Odyssey', but what did the tile-maker have in mind with his message to resurrect the dead on Jupiter?
These titles also reference people and things. One of the Toynbee tiles was found far south of the United States. A tile in Santiago, Chile had inscribed a address in Philadelphia, Pennsylvania. The address was 2624 S. 7th Philadelphia, PA. Residents of the house in Philadelphia knew nothing of the tiles or why their address was included in them. Strange.
Could the creator of the Toynbee tiles reside in Philadelphia? that would certainly explain why a lot of those tiles have been spotted in Philly. The real question that is on everyone's mind is: Who is Toynbee?
Possible identities of Toynbee
Many people believe that the tiles are the work of a carpenter named James Morasco. According to reports, someone by the name of James Morasco tried to promote the idea by local newspapers of resurrecting dead people on the planet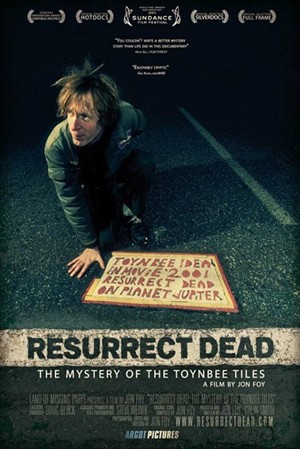 Jupiter in the early 1980s. Morasco failed at starting the campaign and most area newspapers ignored his inquiries. James Morasco died in 2003 and the tiles kept surfacing after his death.
More recently, a documentary film titled "Resurrect Dead: The Mystery of the Toynbee Tiles" present new evidence about the origins of these strange tiles. Directed by Jon Foy, the film presents evidence that the mystery tiler was a Philadelphia resident named Severino Verna. Severino, or "Sevy", used the pseudonym "James Morasco" in the early 80s as he installed the tiles throughout the city. Sevy is said to have driven around town in a car that had a hole on its floor. This would allow Sevy to inconspicuously infuse the tiles with the asphalt from the safety of his car. All the while broadcasting his plans to resurrect the dead via shortwave radio.
The film was selected for the 2011 Sundance Film Festival. James Foy won the category's Directing Award. "Resurrect Dead: The Mystery of the Toynbee Tiles" is available via download in iTunes.