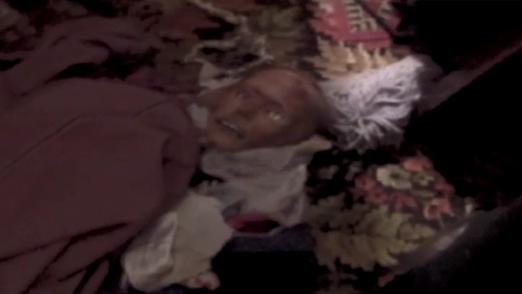 Over on the right side of my editing program is a panel that allows us to choose the categories that articles might fit into. One of those categories is "Macabre" and another is "Weird News", I think this is a case where both apply.
Russian Authorities have been baffled over the grave and body desecrations at several cemeteries in the Nizhny Novgorod area about 250 miles east of Moscow. Baffled that is until last week when investigations led them to the home of 45 year old Historian Anatoly Moskvin.
For the past two years Moskovin had been stealing corpses as well as clothing from the cemeteries in the Central Russian region.
Moskovin was found in possession of 29 female corpses between the ages of 15 and 25. He had dressed them up as dolls going so far as to cover their hands and faces with fabric and tying head scarves on them. Also found in his apartment were maps of local cemeteries and doll making manuals.
Here's the story from CNN's world report:
Warning – Some scenes are graphic in nature.
Moscow (CNN) — A historian has been arrested in central Russia after police found the corpses of 29 women, dressed as dolls, in his apartment, authorities said this week.

The 45-year-old man, who police did not identify, has been charged with desecrating bodies and graves, officials said.

Video released by police showed an eerie collection of what looks like life-sized dolls, outfitted in shabby dresses and headscarves, their hands and faces wrapped in fabric. Authorities say the man also stole clothes from the graves when he took the bodies.

Russian Interior Ministry spokesman Gen. Valery Gribakin told CNN police couldn't figure out for a long time who was behind the "numerous blasphemous acts against the graves and the dead bodies" at several cemeteries in and around Nizhny Novgorod, about 250 miles east of Moscow.

The incidents started about two years ago, authorities said, with each case producing a public uproar in the region. Gribakin said police went the extra mile to find the culprit.

"Our leading theory was that it was done by some extremist organizations," Gribakin said. "We decided to beef up our police units and set up … groups composed of our most experienced detectives who specialize in extremist crimes."

But even seasoned investigators and forensic experts were shocked when their investigation led them to the historian and the contents of his apartment, where the women's mummified bodies were found. The corpses were those of women who died between the ages of 15 to 25, officials said.

Gribakin also said during the search the police found "photographs and plaques from gravestones, doll-making manuals and well as maps of local cemeteries."

Police said the man is a well-known historian specializing in Celtic studies who authored many books and articles, and used to be a college professor at some point.

State-run RIA Novosti and local media in Nizhny Novgorod identified the man seen in the police video of the crime scene as Anatoly Moskvin, a resident of that city. Russian journalists have retrieved articles written by Moskvin in local newspapers from the past several years, indicating his profound interest in and great knowledge of all cemeteries across the region.

The suspect faces charges of desecrating dead bodies and their burial sites, a crime punishable by up to three months in jail or a year of correctional labor.
Source: CNN.com
From the looks of his apartment, he would easily qualify for that reality show "Hoarders".
Life Coach: I'm sorry Anatoly but you can't keep all the corpses.
Anatoly: But is important to keep! My life not so good without such things.
Life Coach: I tell you what, why don't you pick out one to keep. Choose a favorite.
Anatoly: It is thing I must do, I get much pleasure dress up dead to doll.
Life Coach: I know and who could blame you but it's time….to let go…
Anatoly: Is *sniff* *sniff* time….agree.
I'd love to know what this guy was thinking. Maybe he wanted a Barbi as a kid but knew as a boy in "Soviet Russia", it could never be.
"Correctional labor"? I assume that means breaking big ones into little ones 10 hours a day in Siberia. Imagine if we tried to sentence criminals with correctional labor in the US?
What say you GT?