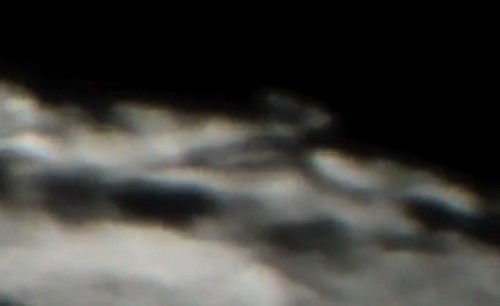 While at the MUFON reporting database yesterday I happened upon this strange video.
What it depicts is the surface of the moon taken through a telescope. As the telescope scans the barron landscape we suddenly see something that doesn't look quite right.
I can only describe it as I saw it but I'll save my opinion and allow the reader to decide what they are seeing.
It is certainly strange looking and definitely doesn't appear to fit in with the craters, dirt and various recognizable formations.
As I studied the anomaly trying desperately to fit it into my idea of what should be on the surface of the moon, I soon realized that it's been quite some time since a moon video has been examined on GT. Then I wondered if a moon video had ever been examined on GT. The truth is, I've never done one, nor can I remember seeing one.
So, this could not only be a unique oddity on the moon but a first for GT as well.
Later in the video we see some other oddities pointed out but in my opinion it's the first couple minutes that are most intriguing. Of course the readers may disagree with that and I encourage you to analyze everything.
Take a close look and as always, don't be shy about commenting.
Uploaded to youtube by FDEX
MUFON Data:

Case Number: 33915/ 33916
Submitted Date: 2011-12-08 22:28 GMT
Event Date: 2011-12-08 20:00 GMT
Region: Louisiana
Country: US
Longitude: -92.1450245
Latitude: 31.2448234
11 comments