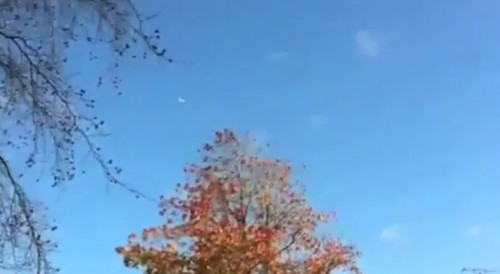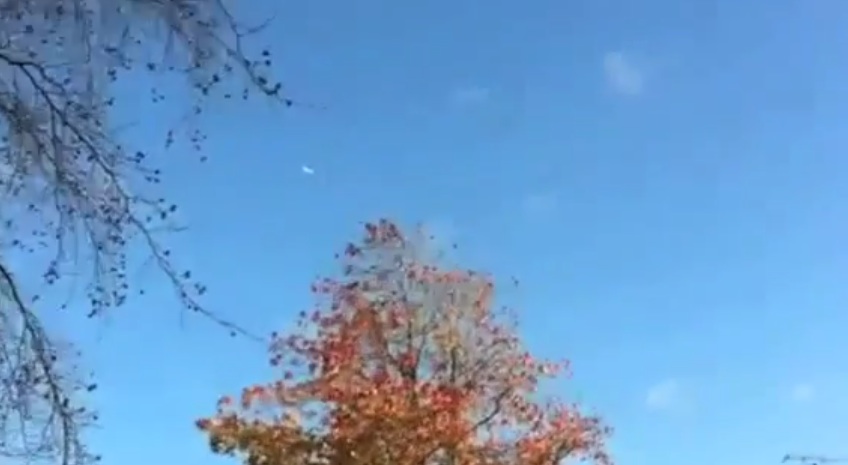 I've been seeing a lot of UFO videos lately, and as usual, most represent a blurry and shaky mosaic of pixelated nothingness. Regardless of what the headlines say, the videos are rarely clear and stable enough for someone to make sense of what it is they're looking at exactly.
That's what I expected when I clicked on the link titled: "Unidentified Flying Object Vanishes Over London"
It turns out, this video is more interesting that anything I've seen recently. The video shows a large object –that seems to be traveling at a very fast speed– vanishing completely in pure daylight.
According to the person who shot the video, they had been walking home that particular day, when they noticed a large object in the sky. It appeared to be moving fast and had a "reflective livery that looked almost like a liquid."
Within moments, we see that the object instantly goes missing from one frame to the next. 1000GPeters Explains what he captured that day:
Can anyone explain this? Just joined Youtube, think the world needs to see it. I don't really believe in UFOs but I saw this walking home and had to film it. It certainly wasn't a plane, it was too large and was travelling very quickly, and also seems to have a reflective livery that looked almost like a liquid. Then it just disappeared from sight, which I simply couldn't believe until I got back and rewatched the footage from my phone on a bigger screen. So weird. Did anybody else see anything like this Sunday 27th November? I think it must have been about 15:30 GMT. Or does anybody else know anything about UFOs or what this could be? Thanks.
Now the video itself isn't one of the sharpest or best footage of an UFO that I've seen, but it does seem to show something very odd. The object, at least to me, seems to be a real object in the sky and not some added special effects. I only say this from the experience I've had over the last few years in examining "UFO videos".
Take a look at the video and tell us what you think.
EDIT: Reader PCWilliams pointed out a stabilized version: