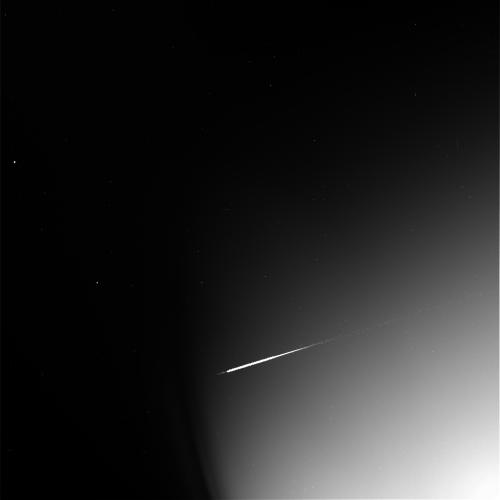 In 2004, the Cassini spacecraft entered Saturn's orbit. It was sent to study the planet and its surrounding moons. Titan is one of Saturn's largest moon. With an "earth-like" atmosphere, the moon is said to be rich in organic chemistry and full of craters and what appear to be rivers and lakes of liquid ethane and methane.
On January 2 of this year, the Cassini spacecraft had its lens pointed towards Titan when it managed to snap a photograph of a strange looking object flying past. The object, looking more like a comet, has not been identified as of yet.
Full source: NASA

W00071265.jpg was taken on January 02, 2012 and received on Earth January 03, 2012. The camera was pointing toward TITAN at approximately 30,059 kilometers away, and the image was taken using the CB3 and CL2 filters. This image has not been validated or calibrated. A validated/calibrated image will be archived with the NASA Planetary Data System in 2013.

For more information on raw images check out our frequently asked questions section.

Image Credit: NASA/JPL/Space Science Institute
Interesting photograph. Check out the full resolution shot. It's clearer and offers a little more detail. Looking at it, I will have to stick to my opinion of this being some lone space rock.
What do you think?
17 comments