Home » Conspiracies, Headline, UFOs, Videos
Video: Authentic UFO Or Amazing CGI?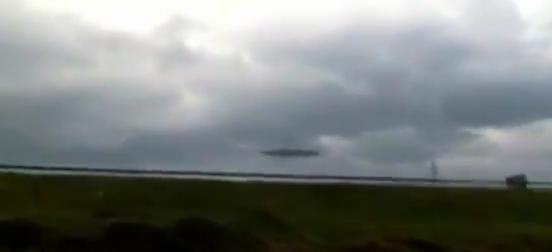 While making my rounds this morning I came across a video that caught my attention. As much as I don't want to believe the subject is real, it's difficult to Pfft! it away.
The Youtube video was brought to us by StephenHannardADGUK and is in fact so good, I have to applaud this gentleman's talent or admit that it is a real craft. Furthermore, I defy anyone to find more than two (difficult to find) red flags in the entire video.
This all leads to the question, is it for real? Logic and experience would tell me no but come on, admit it, this is good! Hollywood good in fact.
Stephen titles it: "UFO Scout Ship Lands In New Mexico? 2012 HD", so you can see, he's not actually claiming authenticity. Admittedly, the untrained eye (and even the trained eye) would be hard pressed to call it a hoax out of anything other than forced opinion. to further clarify, Stephen gives the following description:
Possible leaked footage of a UFO arriving then landing at an unknown location in New Mexico. Could be one of ours, CGI, or could be the real deal. As Always You Decide.
This is what Stephen says about his quest:
I am Stephen Hannard, Founder of the Alien Disclosure Group UK, one of the biggest and most successful disclosure based websites in Europe. I am also the Co-Director of Cosmic Disclosure Productions, a company set up in 2004 to finance and produce short videos and full documentaries concerning the Extraterrestrial, and Paranormal Issue.

Please Note: This channel is designed to educate, inform and hopefully make you smile too. The ADG are 100% non-profit, we are not a Youtube partner or have a Google adsense account.
Now for the moment you've all been waiting for! Stephen's video showing an alleged UFO landing in New Mexico:
So, what did you think? Is this good or what? However, I can't help but wonder if Stephen is hinting at something when he says he "hopes to make people smile."
I think we can all agree that video technology is getting to the point where a live clear shot is almost worthless as proof of something. Furthermore, these advanced technologies will become more and more user friendly, ending up in the hands of amateurs. Authenticating video evidence will be all but impossible with Joe Hoaxer's creating crap all over the world.
Getting back to the subject, while everything inside you wants to call Stephen's video a hoax, that slightest hint of doubt is all that's needed to make it successful….as well as a real possibility.
Thanks to StephenHannardADGUK for this remarkable video.
See Stephen's Alien Disclosure website here
The following two tabs change content below.
I grew up in rural NWPA, surrounded in forest. I took an early interest in cryprozoology and sharks and have read many books on various crypto subjects such as Bigfoot and Megalodon over the years. I am not a professional writer or a journalist, but I do the best I can. I have a quirky, obscurely dry and sometimes sarcastic sense of humor than can get me in trouble. Some love me and some hate me, but I am who I am.
Latest posts by Scott McMan (see all)