Home » Headline, Paranormal, Weird news
Rumble From The Sky Collapses Barn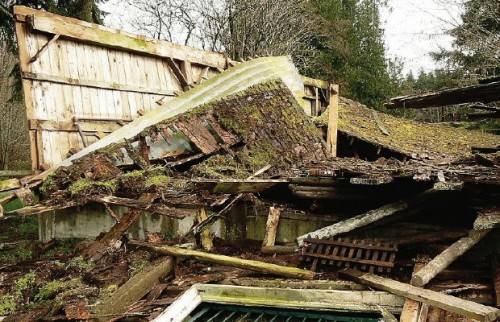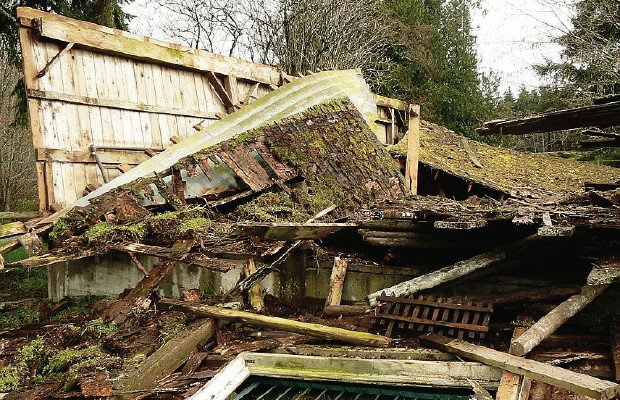 Vancouver, Canada. A strange rumble in the sky was reported just last week near the Langford and Otter Point communities. The loud and powerful rumble shook windows and household objects early that morning. An hour later, another rumble shook up the residents. Around 11 am that morning, the third and final rumble was heard and felt so loudly, that an old barn was reported to have collapsed from the rumbling felt.
Could this be related to the strange noises from the sky we've been reporting?
Full source: Times Colonist
Life is full of mysteries: why hot water freezes faster than cold, how they built the pyramids, why anyone listens to Rush Limbaugh.
And now, or perhaps still, The Rumbles.
Three times Thursday morning, an unexplained phenomenon rattled windows, dishes and nerves from Langford to Otter Point, even knocking down an old barn.
It sounded like sustained thunder, or God bowling. Some feared it was an earthquake, others suspected blasting, while still others thought it was bad choices from the '60s coming home to roost.
"It's still pretty much of a mystery," said Otter Point's Sharon Hanslip on Friday.
The episodes came at 9: 30 a.m, 10 and 11, the last the most intense. "It shook the house and brought down the barn."
The barn was a ramshackle old structure – a giant three-sided shed, half the size of a house – that they had planned to raze anyway. Its collapse frightened a couple of nearby donkeys, but no great damage was done. Still –
"When it brings down buildings, it's disconcerting," Hanslip said.
Whatever caused the shaking, it wasn't an earthquake, says seismologist Honn Kao of the Pacific Geoscience Centre in Sidney.
Also discounted was the dismantling of the Elwha River dam west of Port Angeles. It might be the biggest dam-demolition project in U.S. history, but there's been no blasting for a month, said the Olympic National Park's Barb Maynes.
Likewise, none of the U.S. fighter jets flying out of Naval Air Station Whidbey Island came anywhere close, said spokesman Tony Popp. "We did not have any Growlers or Prowlers in your vicinity yesterday."
The following two tabs change content below.
Based in Brooklyn, NY, I write about all things creepy and strange. My book based on the real haunting of Doris Bither (The Entity 1982 movie) will be released soon. Got a question? Drop me a line.
Latest posts by Xavier Ortega (see all)