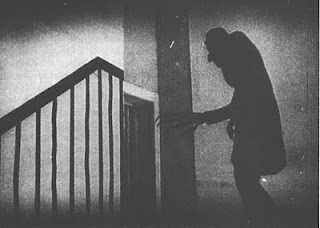 The following true story was submitted to us anonymously.
When "Lucy" uprooted her life and moved to the United Kingdom, she found comfort and warmth with her husband's family. Especially his grandmother. Nan was in her 90s when the young couple moved in with her to take care of her and the house. The first night in her new home, Lucy felt comfortable and finally able to relax. That was short lived.
On the second night strange things began happening. Loud bangs were heard throughout the house. Door knobs jiggled violently and the looming presence of something unnatural around the house all unnerved Lucy. But her real scare would come from the newly developed night terrors. Haunting dreams of a tall bald man with a hooked nose would keep her up at nights.
When she finally broke down and told her Nan about the recent supernatural activities in the house, the old woman revealed something to Lucy. There was something else living in the house with them. This is Lucy's story.
Before I got married and started a family, I had worked as a mortician for three years (I got pregnant then married a bit young) and had not experienced anything I would deem "paranormal" or even out of the ordinary. I actually found my job to be pretty unremarkable as far as strange happenings were concerned. I was never one to believe in ghosts and was always the girl egging my friends on by knocking under the table as sleepover seances or jumping out of wardrobes in darkened hallways and getting some poor, gullible girl at my school to believe the locker room was haunted by a murderous jilted prom queen. I was mean. That being said it was, of all places, in my own home that the following happened.

So I got married and moved to the United Kingdom with my husband who is British (I am from a small suburb of a large American city). When we had saved up a bit of money we were able to rent a decently sized house in the nicest neighborhood in the area and surrounding from an elderly relation of my husband's who had moved out a year prior for she was not able to take care of herself any longer. I refer to her as such because even by the time we had moved in to her house I had never met my husband's grandmother. Once I met her I found her warm and vivacious and hilarious. She welcomed me into the family immediately not only as the mother of the only great-grandchild she may ever had known but as a granddaughter. Having recently suffered one injustice after another from my family I was overwhelmed with the kindness shown by her.

Every time we went to see her she would ask how I was finding the house. I always said it was lovely (although it had a mould problem and was northfacing) and I was enjoying it very well and we were so grateful that she was allowing us to rent it from her. And she would shrug it off and slip me money to spend on my son for a day out or new shoes. What a dear. A proper, Welsh grandmother if I ever knew one. But one occaision it was only her and I in the cottage she shared with her eldest son and his partner I had brought her up a cup of tea. At this point we knew this was the end of her time. She was bedridden, fading in and out of lucidity, and poor dear was so weak she had to drink her tea fropm one of those "sippy" cups you give toddlers. Then she told me: "Are you comfortable in that house, dear? I always felt as if I couldn't sit down. Almost as if I wasn't allowed." Then I started crying and told her the ordeal I had been through since we'd moved in.

Our second night there, my husband had gone to the local pub for a quiz night and I had been left alone with the baby. The baby went to bed and I got stuck in to a bit of my coursework (I retrained after moving to the UK as my qualifications from America didn't carry over without a further two years of study; we didn't have the time or money). At round about 10pm I headed to bed to do some knitting. I wasn't up there five minutes when it sounded like someone had taken a really heavy book. Like a theasaurus or phone book and dropped it on the table in the dining room. It was so loud I was almost afraid one of the cleaner bottles had exploded. I walked tentaively out into the hallway and say the light fixture swinging from side to side. Not violently. Just swinging. Having lived in a dangerous part of a large city for my entire college career I made a habit of shutting all windows before hopping into bed. There was no breeze. I went downstairs and checked the cleaners, the bookshelves, the table. Nothing out of place. I got back in bed and stayed there, wide awake and heart pounding until my husband came home. There were other things.

Like Nan, I felt as though I was never allowed to sit still for more than a few minutes. I had developed a terrible over cleaning habit going so far as to bleach everything in the house (including myself…gross), I would cry for days on end for no reason and was terrified to be left alone in the house. For the first few weeks of the two winters we spent there I refused to open the curtains or leave the house. This was not like me. Some sort of horrible hysteria had overtaken me. I always felt the need to stay away from windows and doors, as if something would happen to me if I stood too close. The handles to the windows of the second floor would jiggle in the middle of the afternoon. as well as late at night. Then there were the night terrors, the sleepwalking (all completely uncharacteristic of me).

I only told my husband about it once and he attributed it to the pressures of being a new mom. Some of it might had been. But it felt like more. I felt like I always was carrying around something extra in the house. And once I'd get out of it the weight was lifted. The dreams were the worst. A tall bald man with a hooked nose would just pace the hallway outside the bedrooms. Up and down during the dream and there was something in me terrified of being seen by him (I was not abused as a child; despite my mother being a bit of a rubbish mom she tried really hard…I would actually say I had an alright childhood. I don't know I read somewhere children who were abused are more likely to have night terrors…or something). And my husband and I who got on like a house on fire and married several years still threw each other against walls (in the "fun" way…*wink wink*) and crawled up each other's bodies were fighting. And it was bad, I nearly left him.

She then told me the old man was only my husband's grandfather. He was probably confused that she wasn't there and to not be scared. He was a dear man, but firm. It is questionable if she actually knew something that most people don't or if she was just losing it. But she did tell me if I was ever to get any rest or have any other children we'd have to move out. Because as much as she wanted us to live there long after she was gone, it just wasn't going to happen there. A month after this feebled conversation, she was overcome by a chest infection and died in hospital. She was 93. I took it particularly hard as I'd grown to love her like my own grandmother. But we got back to the house the night after she died and it was amazing. It was like the entire inside of the house shifted. And I felt at ease despite what tasks lay ahead of us. And I got back to being the person I used to be before we lived there. In the following weeks I slept soundly with no night terrors, I was able to be idle if I pleased. I stopped bleaching my house and hands. I came and went as I liked. I felt free.

Eventually we found a fixer house in the same neighborhood for a decent price and the purchase was made possible by the money Nan had set aside, explicitly stating it was for us to buy our own home. We've been here a month, back to the old place to help the family fix it up for selling. But I still get a bit of unease being there. And our son, now older, won't go over there at all and pitches a fit if we mention the place.
I'm not sure exactly what happened there in those two years. But Nan knew something we didn't.