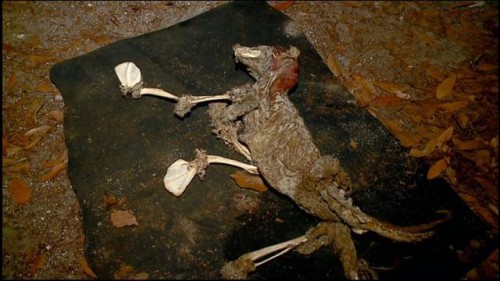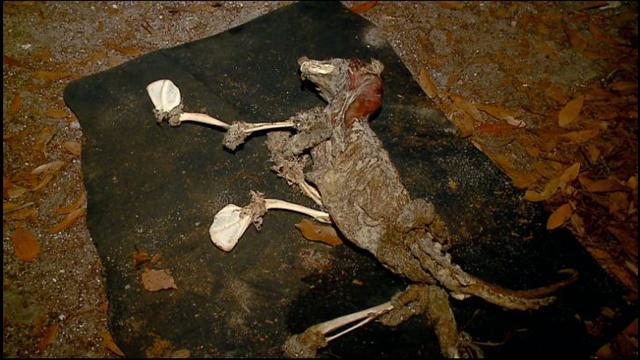 A strange looking carcass washed ashore in First Coast, Florida. The carcass has canine-like features (tail, abdomen, head.) but what's bizarre are the photos of the animal's feet.
We've reviewed dozens of other "mysterious creatures"  that have washed ashore across the globe. In all of these cases, the "monster carcasses" turned out to be either a severely decomposing animal corpse, or some cruel hoax. The photographs depicted on the First Coast News website show a very disturbing image.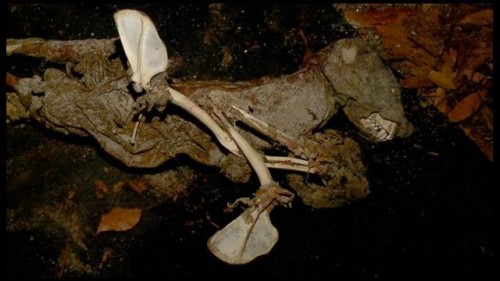 The animal carcass looks like it has its legs inverted. Meaning the shoulder blades are in place where its feet should be. Maybe the outcome of scavengers or of some cruel hoaxers,  but this mystery should take no time to resolve once a biologists takes a good look at the creature.
JACKSONVILLE, Fla. — "I thought it was a dead possum until I saw it's feet."

That's what First Coast resident Paul Lovely told First Coast News about the creature he found washed up on the banks of the St. Johns River Wednesday.

Lovely said the awful odor coming from the carcass is what caught his attention. That is, until he saw it. Once he did, he was fascinated by the creature's odd features.

"Other than it stinking like God Almighty knows, just the weird feet, how long the legs are, and it's got a kind of weird-looking head but it could be just cause it's rotted off some, but I don't know how to explain those feet."

Since he didn't have an explanation, Lovely reached out to the Florida Fish and Wildlife Conservation Commission. Lovely sent pictures of the creature to FWC and said they asked him if this was a hoax.

But Lovely assures it is not. He stands his ground that this animal is in the condition he found it in. So what could it be? Lovely admits he considered a few possibilities.

"I've seen shows about chupacabras and stuff like that, man, but I always thought it was kinda funny until today. So I don't know what it is. It could be something, a tweaked out something but I don't know. Never seen anything like that before."

Lovely had one other thought:

"I'd like to know if its male or female. I haven't lifted and looked into it that much but it'd be kind of scary knowing something like that could paddle it's way out to you in the water."

Lovely said an FWC biologist is planning to come and check the animal out on Thursday.

source: First Coast News
6 comments