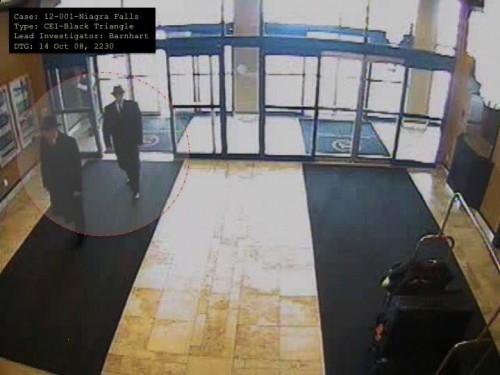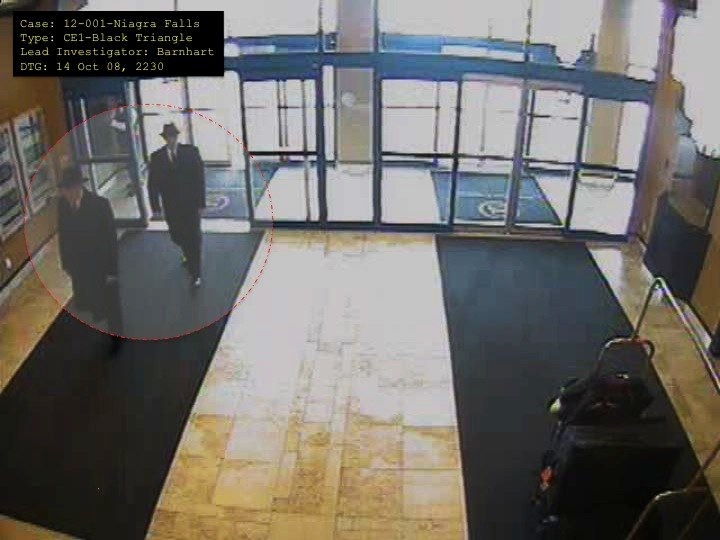 From the Aerial Phenomen Investigations Team in Maryland comes this unique case with an exceptionally unique footage. According to the API Team, a recent UFO investigation case in Maryland received some attention from two strange looking men dressed in all black and looking so alike, that employees thought that they might be twins. They wore the exact same clothing, hats, and even had the same facial features. The men were captured on a hotel's security camera entering the lobby in a straight strut.
According to those employees who talked to the men, they described them as tall, with extremely pale skin and no visible facial hair. Including no eyebrows and no eyelashes. Their eyes were described as being "so big and so blue, that they almost hypnotized.."
The original source of this video is from the Aerial Phenomen Investigations Team in MD. For complete details about this incident contact them. I have no further details about this incident Quote from video source: "I work with the Aerial Phenomenon Investigations Team based in MD. One recent UFO investigation yielded actual footage of MIB on a hotel lobby camera. This video has a voice over of the person these MIB came for". –M. Barnharrt
Yes, this is a strange video and a strange story from the employees of the hotel. Could this be the first proof of the fabled MIB? Or just some guys looking for some laughs?
The following two tabs change content below.
I'm a writer, a runner, and a hell of a coffee drinker residing in Los Angeles. I'm currently working on a book about Doris Bither and her terrifying account of a haunting in Culver City, California. The case was dubbed "The Entity" and it stands to be one of the most controversial cases ever to be studied by parapsychologists.
Latest posts by Xavier Ortega (see all)