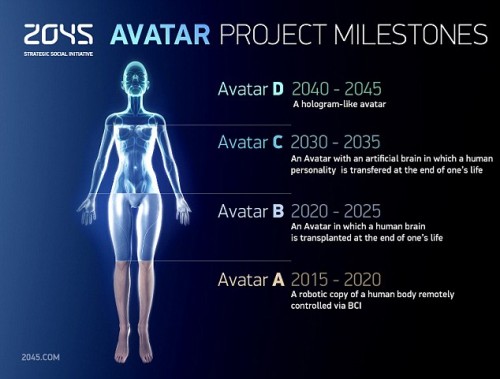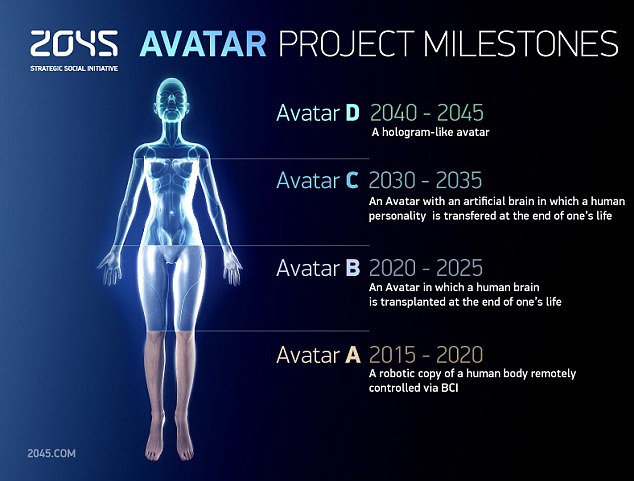 From Russia. An entrepreneur who runs the hi-tech research project known as "Avatar" has his goals set on selling immortality to those who can afford the high-ticket price. According to the the article from the DailyMail, Dmitry Itskov said in a recent interview that his research company has hired 30 scientists to help with the immortality project. And what is this "Avatar" project all about?
The goal of the "Avatar" project is to fully transplant a living human's brain into a robotic body.
He has contacted a list of billionaires with a proposal for funding his quest for immortality – which Itskov refers to as 'cybernetic immortality' and the 'artificial body'.

The initiative is opening its San Francisco office this summer, and will be launching a social media project connecting scientists around the world.

'The 2045 team is working towards creating an international research center where leading scientists will be engaged in research and development in the fields of anthropomorphic robotics, living systems modeling and brain and consciousness modeling with the goal of transferring one's individual consciousness to an artificial carrier and achieving cybernetic immortality,' says Itskov's official site.

'Such research has the potential to free you, as well as the majority of all people on our planet, from disease, old age and even death.'

'For anyone interested, but skeptical, I am ready to prove the viability of the concept of cybernetic immortality by arranging an expert discussion with a team of the world's leading scientist working in this field.
'I will also be willing to coordinate your personal immortality project entirely free of charge for the sake of speeding up the development of these technologies,' –source: DailyMail
Itskov's goal is to gather investors and world interest in his ambitious but potentially ethically challenging project. According to Itskov's plan, by the year 2030, we should be able to transplant a fully conscious human mind/spirit into one of these hi-tech avatars. It's as if the technology will be developed to make it possible to download (or upload) your being into a bionic skeleton.
Hmmm….. reminds me of something chilling….can't remember what it was– oh yea, creepy cyborgs.