Home » crypto, Headline, Latest Evidence, Mystery of History, Research & Science
Breaking News: New Bigfoot Photo Blows Hovey Picture Away!
I just got word from Shawn over at Bigfoot Evidence on some brand new pics over at Ontario Bigfoot.
These photos are so real that they are either truly the creature in the flesh or a very cruel joke.
I'm not even going to waste time talking.
Bam!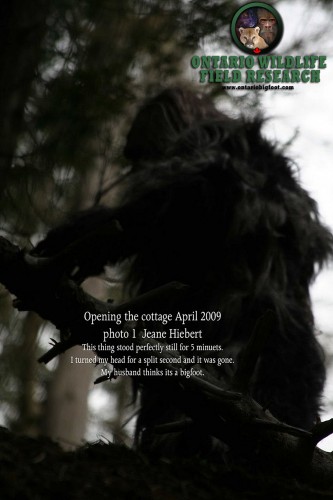 That's not all, Babam!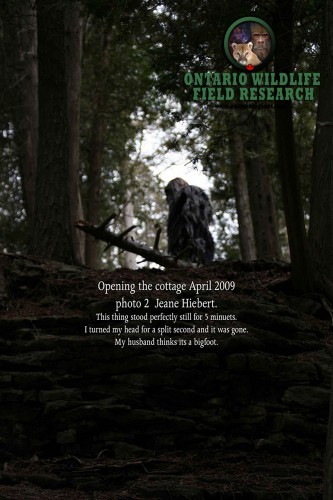 And yes, there is one more!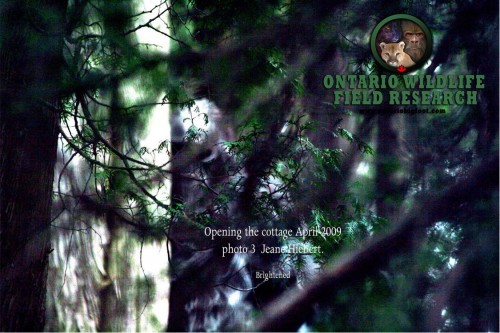 Here's some commentary on how these photos came about:
Temagami cottagers have encounter with a very large hair covered creature and have the pictures to prove it.

We all remember the tales of "Old Yellow Top" from the Cobalt area starting in the early 1900's. Well, having investigated numerous reports from the area in recent years "Old Yellow Top's" descendants are alive and well in the Temagami area today. From vocalizations, huge footprints, to actual close encounters with the creatures are becoming more prevalent. Here is just one story of many to come…….

Location: Cabin on small lake just outside Lady Evelyn Smoothwater Park in Temagami Ontario, Canada.

Witnesses: Mr and Mrs. D Heibert

Date: April 15th 2009

Time: 2:39 pm

At approx. 2:39 in the afternoon Mrs. Heibert was opening the blinds in the back bedroom of the cabin and noticed a very large hairy upright creature on the top of the hill about 50-70 yards away. She informed Mr. Heibert who grabbed the digital camera and went outside to take a picture of it. While walking around the back corner of the cabin powering up his camera (8 MP Canon EOS DIGITAL REBEL XT, 300 mm lens) out of the corner of his eye he noticed it had seen him and froze. He had to delete several pictures from his SD card in order to be able to take any pictures. Mr. Heibert managed to take 2 pictures and while looking down at the camera it disappeared only to reappear 15 minutes later at the wood pile. It was peeking at him from the tree line beside a path. It was approx. 10 + feet tall and very massive. The creature roughly estimated to be twice the size of the witness. 3 pictures were taken in all. The pictures were taken from the back of the cottage looking up the hill from the top of the propane tank cabinet.

"This thing stood perfectly still for what seemed like 5 minutes. I turned my head for a split second and it was gone".

In the following weeks the screens were pushed in or torn off some windows of the cabin.

The encounter was reported to the MNR and OPP in New Liskeard on April 28/2009. 3 digitally transferred pictures were left with the officer as well as a one page written report on the incident and the witness's phone number. The officer they spoke with found it hard to believe they were reporting it and asked, : are you serious about this, and laughed….

A game Warden and several MNR biologists (Names withheld) attended the cabin and stayed several days investigating and taking pictures of the area. They stayed on after the witnesses left.

In 2010 witnesses sell cabin. Witness's wife was no longer comfortable and afraid to go there.

They believe the cabin has since been torn down.

Read more over at Ontario Bigfoot/Temagami Bigfoot
I'm going to need some time with this as I am in a state of shock right now.
Thanks to Shawn for the tip and Ontario Bigfoot for the awesome photos!
The following two tabs change content below.
I grew up in rural NWPA, surrounded in forest. I took an early interest in cryprozoology and sharks and have read many books on various crypto subjects such as Bigfoot and Megalodon over the years. I am not a professional writer or a journalist, but I do the best I can. I have a quirky, obscurely dry and sometimes sarcastic sense of humor than can get me in trouble. Some love me and some hate me, but I am who I am.
Latest posts by Scott McMan (see all)