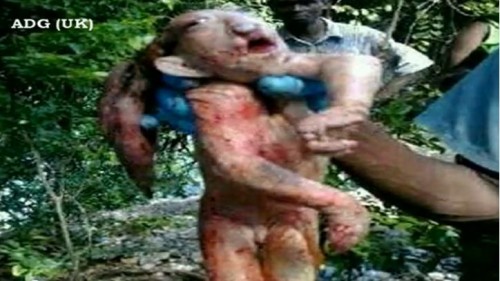 It's been quite some time since I've seen anything strange come out of Africa. However, it looks like this one is quite a story.
I don't know how real this is, but it does look out there.
Apparently a hunting party being escorted by some locals in Namibia came across a small troll like creature that seemed to be out foraging.
Their first reaction as humans was to shoot it of course. After wounding the little fella, it ran off with the group in hot pursuit.
Here's what happened next:
Locals came across this strange creature while they were escorting a shooting party in Namibia. Witness's state that the creature was spotted apparently foraging for food, one of the shooting party wounded it with his rifle and it escaped into the thick brush. The locals tracked it to a nearby lair or nest where they found three more creatures of similar size. The wounded creature attacked one of the shooting party and it was shot dead, the others escaped into the brush. The body of the creature was taken back to the local camp, police later removed its corpse and a full forensics investigation is under way. A video is pending on this so I will post if and when I receive it. So what is this guys, an Alien, Goblin, maybe a new species of pigmy or something more sinister, as always you decide.
Somewhat hard to believe? Of course it is, but if I didn't post it, I wouldn't be doing my job. Who knows what this thing is or even if it's real. However, if police removed it and sent it for forensics, then we'd likely be hearing something in the future, right? Right? I for one, will not be holding my breath.
Maybe some of our video experts can take a closer look and clarify as to the authenticity of said video.
Actually, it looks somewhat familiar, like I'd seen it before. Could it be a gaff, constructed out of paper mache? Maybe a deformed child? It's anyone's guess at this point.
I have tracked this back to Feb 4th from this site. I'll keep digging around and see if I can find anything else. Till then, smoke em if you got em.
Finally, Alien Disclosure Group UK has been known to put up some very questionable videos. However, they are the ones who I believe were first to post the video, so I have to give them credit for it as I always do.
Associated Content:
GT: Kentucky Goblin Sighting
GT: Fairy Witnessed By Several People In PA
33 comments