Home » crypto, Headline, Videos
Ohio Bigfoot Video Looks Painfully Fake
The following video was captured in the remote woods of northeast Ohio on April of 2012. Somewhere deep in the Grand River area, a person riding an ATV recorded footage of a strange creature crossing their path. The "creature" stomps out of the brush in a clumsily run for cover, carrying a stick on one hand.
It's painfully obvious that what we see here is a someone running across in a cheap monkey suit. The feet are a good giveaway. However this doesn't stop major news sites –like the HuffingtonPost– from putting it up on their front page. Adding fuel to the fire.
The Comments from YouTube: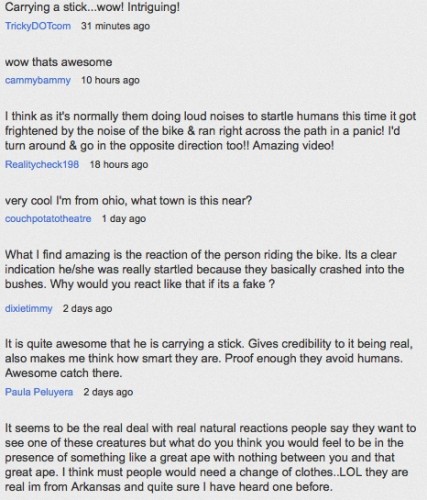 I'm a writer, a runner, and a hell of a coffee drinker residing in Los Angeles. I'm currently working on a book about Doris Bither and her terrifying account of a haunting in Culver City, California. The case was dubbed "The Entity" and it stands to be one of the most controversial cases ever to be studied by parapsychologists.
Latest posts by Xavier Ortega (see all)