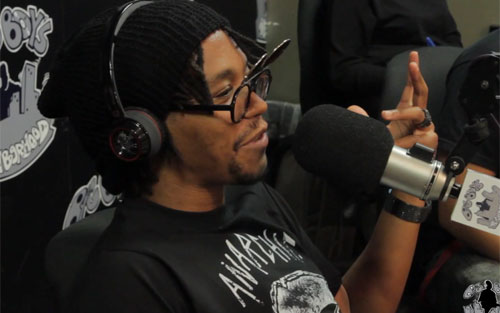 Power106 FM is one of Los Angeles top Hip Hop radio station. They recently interviewed the musician Lupe Fiasco and through the interview we learn that he's had an otherworldly experience when he was a child in Chicago.
The news comes from OpenMinds.tv:
Musician Lupe Fiasco claims he was visited by extraterrestrials when he was eleven years old.

Fiasco disclosed details of the event during a recent interview on Los Angeles radio station Power 106. The rapper explained that his "extra-worldly experience" occurred in 1993 in Chicago, Illinois. He recalls waking up at approximately 7:00 am, shocked to find himself surrounded by a "blue electricity." Unable to move, he called to his sleeping cousin, but his cousin did not respond. Fiasco then remembers looking out the window and seeing a black disc fly down from the sky, hover, then take off out of site.

Fiasco believes a mysterious scar on his ankle is a result of the incident.

After Fiasco shared his story with the Power 106 morning show's team, co-host Rikki Martinez shared a similar story. Watch the interview with Lupe Fiasco below:
The following two tabs change content below.
I'm a writer, a runner, and a hell of a coffee drinker residing in Los Angeles. I'm currently working on a book about Doris Bither and her terrifying account of a haunting in Culver City, California. The case was dubbed "The Entity" and it stands to be one of the most controversial cases ever to be studied by parapsychologists.
Latest posts by Xavier Ortega (see all)