In 1980 Stanley Kubrick released one of the most recognized psychological thrillers of all time. Kubrick's interpretation of The Shining (One of Stephen King's bestsellers) is nothing less than a masterpiece on film.
Kubrick does a phenomenal job in extracting the underlying fears in King's novel and conceptualizing scenes to describe what the characters felt. He uses strong imagery to leave a colorful imprint in your brain. Something to keep you up at nights or to remember for the next time you're walking down the corridors of a desolate hotel.
However, many are not aware of the deep levels of psychology that exists in the set design. Designs that Kubrick manipulated to mess with your head.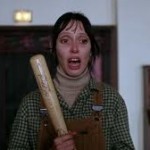 Rob Ager's psychological analysis of The Shining is something you have to watch. Ager breaks down the film to an almost scene-by-scene basis and points out what first appears to be flaws in set design.
Ager does an excellent job at interpreting these "flaws" as nothing more than the director's clever way of playing with spatial awareness. The video then moves on to talk about Kubrick's impossible spaces that appear to have been intentionally created to induce vertigo and feelings of paranoia on the viewers.