In the ongoing soap opera that the search for Bigfoot and it's cousins has become, there is a new player in town.
New Yeti Resort proposed for popular Siberian skiing resort

BY Jessica Tasman-Jones

A resort and hotel encouraging tourists to discover the Abominable Snowman is reportedly being established in Siberia.

The Yeti Park will be constructed at Sheregesh ski resort, The Siberian Times has reported, and comes with a pledge from the local governor to pay 1m Russian Ruble (US$33,047, 24,821 euro, £20,871) to anyone who can catch the creature.

Deputy head of the local administration Igor Idimeshev is behind the park and has said he has had previous encounters with the Yeti, but was too scared at the time to collect any proof of its existence.

Idimeshev tells The Siberian Times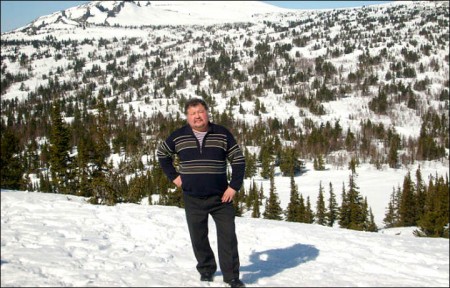 'We are building the Yeti Park now, and of course there will be a chance for people who come here to see creature. For me having Yetis here means something much more than the tourist attraction'.
Others are a bit skeptical
Critics see the Yeti Park – with a hotel and a themed children's playground – as a crude attempt to bring in both Russian and foreign tourists.

'We can see how Scotland exploits the Loch Ness Monster, who why can't we do the same with the Yeti?' admitted one official. 'We hope people will come from all over the world.'

Recent tours to remote caves in the region have found samples of Yeti hair, though various promises of definitive DNA research on them have somehow failed to materialise.
That sounds familiar.
Still Idimeshev insists:
Despite this, local officials insist the Yeti is real, even if Igor Idimeshev, 48, deputy head of the local administration in Sheregesh, and the man behind the new park, has a novel explanation for its existence.

'I've seen this creature several times', he said. 'I think it is most likely of the extraterrestrial origin, not from this world. The Yeti might suddenly disappear and re-materialise. Another extraordinary thing is that Yeti's hair is luminous at night, and also that the Yeti can walk on water.'

Later in an interview with The Siberian Times, he elaborated on his close encounters with the Yeti, despite admitting his mother told him not to tell people because they would not believe him.

'I've met these creatures several times here in Tashtagol district and also in the area where I was born in the village of Toz close to Zelenaya Mountain.
'I saw it several times before I moved here to Sheregesh. Each time I was on my own, I was hunting. The only person I ever told everything in detail to was my mother – and she taught me to keep it to myself.

'People will simply think you've made it up', she told me.

'We people of Shoria do not use the name 'Yeti', instead we call these creatures Big Men. Every man round here sees him when he hunts. It's all right to mention the fact of meeting – but we don't go into the details of it, like where exactly it was, what he did do, or your luck will be gone forever.

'The feeling is one of fear. It is a fear that you cannot explain rationally. You feel yourself very scared and tense at the same time. One of the closest comparisons is the feeling of looking into a wolf's eyes. If you've ever seen them – I mean a wild wolf, not a caged animal – you remember a feeling of them being something very unusual, alien.

'Like with a wolf, you can see a Yeti's eyes from a distance of some 100-150 metres. They are quite hypnotising. And when I saw the Yeti's eyes my only thought was that they are not from Earth – they are clearly of an extraterrestrial nature.

'To me, the Yeti is an extraterrestrial creature. I believe that it is like a controller to look over things here on Earth.

I can understand why people do not notice creations like this. We were designed and created to live in a very smart way to protect our minds from information that can damage them. Put it simply – we ignore things that we can't explain, which is very wise, people otherwise would go insane.
Well it is a good thing Igor has proven more resilient.
And really what harm can it do? I am fairly certain that developing thousands of acres, tearing out trees, running heavy equipment for months at at time to grade slopes and build roads, and years of commercial construction is an approach to crypto-zoological research that has yet to be explored. Yeti, I am sure are just as curious and outgoing as their North American cousins, and will almost certainly appreciate the installation of snow machines in these times of global climate change.
Fear not, Siberia is not alone in trying to commercialize the Yeti. Japan has Snow Town Yeti, a ski resort on Mt Fuji
Yeti is a ski resort with an excellent back ground view of Mt. Fuji and is easily accessible, being a 90 minute highway drive from Tokyo.
It is an enjoyable ski resort, attracting guests from Tokyo and Kanagawa Prefecture.
There is a gigantic outlet shopping center, "Gotenba Premium Outlets", near Gotenba Interchange and an amusement park, "Grinpa", down from Yeti.
We have a wide variety of activities and attractions as well as a ski resort.
Though there are relatively few sightings on the islands, the Japanese do claim a remote mountain dwelling cryptid, the Hibagon:
He's Really Scary!!
And never ones to let an opportunity for commercialism pass, we Americans have adopted the Yeti for generating tourist dollars.
Yup, Ski Utah
Ski Utah Yeti

In search of The Greatest Snow on Earth®, the Yeti ultimately landed in Utah. Ski Utah has hired the Yeti as their official mascot and slopeside reporter. Follow the Yeti to get the latest info on local pow stashes, crazy events, storm totals, and tips and tricks on the best ways to maximize your Utah experience. The Yeti is also known to throw out the occasional swag.. so be sure to stay tuned. Yeti knows best!
We are closing in on true discovery any day now