Home » California, Conspiracies, Follow up, Headline, Latest Evidence, Macabre, Mystery of History
'Black Dahlia' Murder About To Be Solved?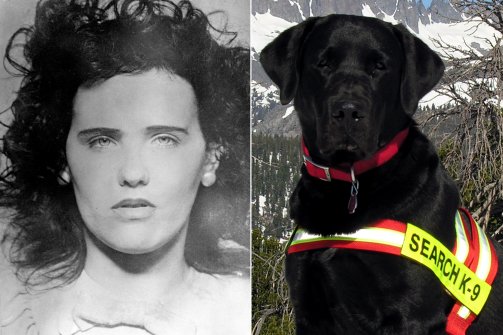 Buster, a 9-year-old black Lab who has extensive experience as a cadaver sniffing dog is on the case of the century. If the DNA samples confirm it, he could have helped solve the infamous Black Dahlia murder.
The eccentric Dr. George Hodel has always been a suspect in the gruesome killing of Elizabeth Short, or as the media tragically called her 'The Black Dahlia'.  It was all speculation and has been so for many decades, however new DNA evidence retrieved from the doctor's former property could prove once and for all that he was responsible for Elizabeth Short's mutilated body turning up in an empty lot in Leimert Park, just a few miles outside of Downtown Los Angeles.
The most intriguing theory, though, may be the one posited by Steve Hodel, whose says his own father did the deed.

Hodel, a crime writer and former LAPD detective who has written two books about the Black Dahlia case (a nickname bestowed by the tabloid press), is convinced that his father, George Hodel, a surgeon, killed Short after a romance between the two turned ugly. He also believes his father killed close to a dozen women in the 1940s in his Hollywood home and then gruesomely posed them in different locales around the city.

The elder Hodel, it has been revealed, was indeed a suspect in the Short murder, but his son says he was never caught out of a combination of high-powered friends (who may have had dirt on the police) and inept detective work. The LAPD never closed the case, but they're not actively pursuing it either.

Enter the dog.

Last November, Hodel joined forces with former California police detective Paul Dostie and Buster, his rambunctious 9-year-old cadaver-sniffing black Labrador, for the first-ever forensic search at Hodel's former home. The property is now called the Sowden House and named after its first owner, photographer John Sowden, who had the house built for him in 1926 by Lloyd Wright, the son of architect Frank Lloyd Wright. –Read more: The Daily Beast
Author Steve Hodel has been in countless documentaries and articles regarding this theory about his father's involvement. His own investigation on the Black Dahlia case has dug up plenty of old bones in the LAPD and in his own family's past.
Aside from the doggy evidence, Steve Hodel's own research points to some persuasive clues. Hodel started working on the case after his father died in 1999, leaving behind secret photos of a woman who looked like Short. After digging through an old grand-jury file, Hodel learned that the LAPD had placed bugs in his father's house in February 1950, two months after he was acquitted for molesting his 14-year-old daughter, Hodel's half-sister. "There were 18 detectives assigned to pick up Dad and take him down for questioning in the spring," Hodel says. "While they were questioning him they sent out detectives who put microphones in the rooms. They did this for six weeks.

In one of the picked-up conversations, George Hodel, who is speaking to an unidentified visitor, says: "Supposin' I did kill the Black Dahlia. They couldn't prove it now. They can't talk to my secretary because she's dead." (Police investigated Hodel as a possible suspect in his secretary's poisoning but later dropped the case.)

Also discovered in the files were chilling excerpts dated February 18, 1950, in which investigators heard a woman at Hodel's house asking for an operator several times. "Sounded as though she was crying," the investigator wrote at the time. Four hours later, an investigator wrote that he thought he heard Hodel and an unidentified German man go down steps, enter the basement, and begin digging. "Something was referred to: 'Not a trace,'" the file reads. "It also appeared as though a pipe was being hit."

Not much later after that, investigators heard a woman screaming: "Woman screamed. Woman screamed again. It should be noted that a woman was not heard before the time of screaming since 6:50 p.m. She was not in any conversation, and not heard of again until the time of letting out these two screams." –Read more: The Daily Beast
The following two tabs change content below.
Based in Brooklyn, NY, I write about all things creepy and strange. My book based on the real haunting of Doris Bither (The Entity 1982 movie) will be released soon. Got a question? Drop me a line.
Latest posts by Xavier Ortega (see all)