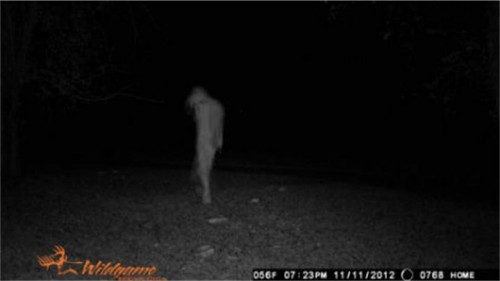 As much as I try, I am not infallible and if anyone is going to trust me, I need to fess up when I'm wrong. This is one of those times.
Many may remember my Trail Cam Biped Deconstruction (see associated content) where I surmised that we were seeing the rear right leg of a cow. Today I came across a video that proves me wrong, but that's not even the interesting part of the story.
This video not only shows the trail cam photo I deconstructed, it also shows two other pictures. The original photo appeared on the Facebook page 'Chasing Trophy Whitetails' and got a lot of play out and about. The two additional pictures are allegedly what transpired prior to the original picture being snapped.
What makes it so interesting, is the Youtube video host, Paul Coffey is claiming it's some sort of Indian Healer Spirit. In fact he makes no bones about it as he seems thoroughly convinced.
Lets take a look and then you can read a short description from Mr. Coffey:
Indian healer spirit captured on a deer hunting camera in a small town north of Corpus Christi, Tx. Pretty amazing catch as my friend forwarded these pictures to me as he know I was involved in the paranormal.
Wow, just wow! As much as I am disappointed in myself and my analysis, I find it hard to believe that this is actually a Native American ghost, let alone a "healer spirit". Mr. Coffey explains that his "friend" sent him the photos and since I don't know him, I can't verify the validity of the video.
Of course, that's as far as I'm going to go with this one. I made my attempt and failed miserably. I don't want to get it wrong all over again….yes, I'm a big coward. On top of that, I plan to do more "Deconstructions" in the future and I need all the support I can get. One thing is for sure, I will need to work doubly hard to insure that I get them as correct as possible.
Till then, it's now up to the readers to decide the validity of Mr. Coffey's video as well as what is depicted. Time for our GT sleuth's to come out.
NOTE: All my other deconstructions are beyond reproach….maybe…
Content provided by Paul Coffey.
Associated Content:
GT: Trail Cam Biped Deconstructed Me = embarrassed!
GT: 'Palmetto Monster' Deconstructed
GT: Hubert, OK Game-Cam Bigfoot? Not So Fast!
21 comments