On my trip over to Weird Asia News today, I was met with a video entitled: "Lollipop Street Artist". What I expected was a video ad pushing commercialized party paraphernalia, what I got was something quite surprising and amazing!
While there is little more than this video, it looks as though we are seeing a 60ish Asian gentlemen on a street in Hong Kong (I'm guessing) shove a lollipop into his mouth, he then proceeds to gyrating his jaws and sliding the lollipop back and forth whilst making odd faces. After just a minute or so, he pulls the lollipop out of his mouth and….Well, I'll let you see for yourself:
Now, we have to ask, how is this guy able to do a candy bust of someone's head in his mouth? Is this some sort of scam or trick? Did he prep the lollipops in advance? Or, maybe through sheer repetition he can produce a male and a female, but all looking pretty much alike?
Actually, I have a million questions, but maybe I'm thinking too much. After all, he is entertaining the tourists and I'm sure it's not costing them a whole lot of money. Maybe we should just accept it at face value, smile and move on. However, if this guy really can chew a replica of anyone from an unaltered lollipop, then my hat's off to him. He is truly an artisan!
I suppose we will now need to monitor such activity to further prove or disprove this seemingly amazing talent. If anyone out there has seen this done or knows anything about it, throw up a comment! Actually, throw up a comment even if you haven't seen it.
At this jucture I probably could have stopped and called it a day, but my investigative juices got the best of me. So, I went on a search for offbeat artists and found the lollipop guy's closest relative. His name is Maurizio Savini who also uses his mouth to produce his works. The difference being that Maurizio works with bubblegum. Once all the flavor and bubble making is done, he then forms sculptures, as you can see in the examples below.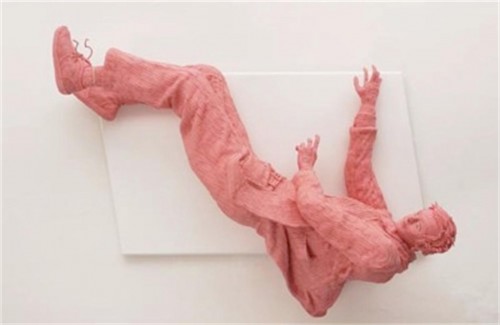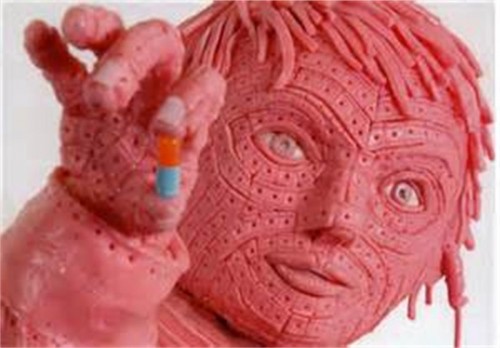 Want more of Maurizio's bubblegum art? Go to BiBi.org…
Another piece of art associated with chewing is Tom Deininger's "Lips", made entirely of trash: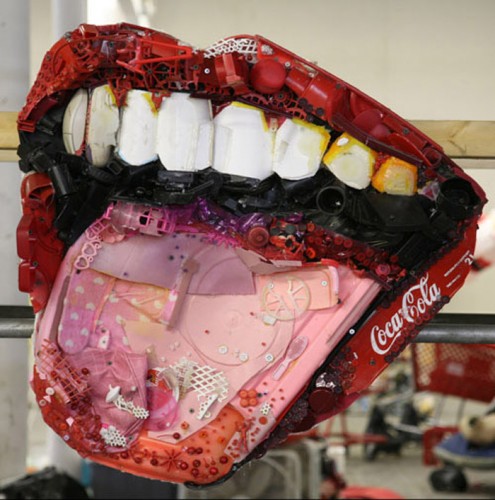 You can see more of Tom's talent here….
I wonder what would happen if we rigged Tom's Lips to chomp on lollipops and bubblegum? Do you think we could produce art from it?
Need more? OK, take a look at this one by San Francisco's Liz Hickok who makes her sculptures entirely out of Jello: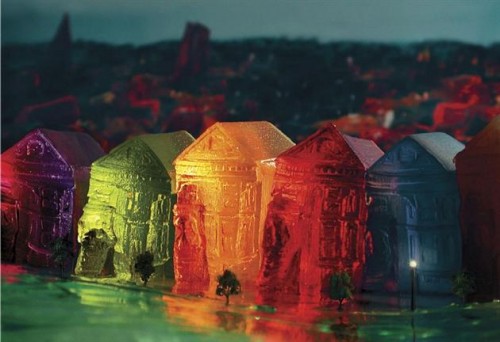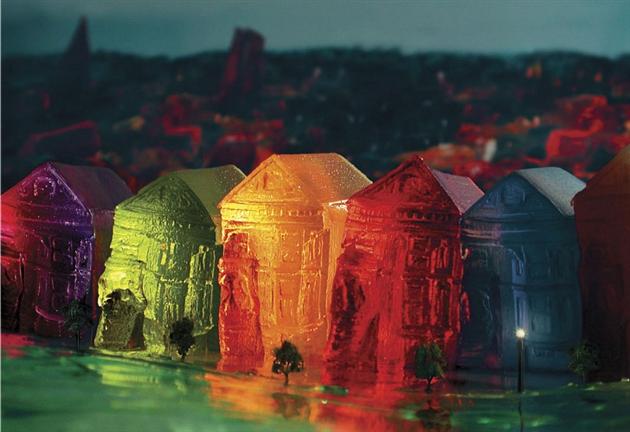 Yes, I know my theme is getting a bit jiggly…Get it? Jiggly! Jello is….Aww, nevermind. To view more of Liz's colorful J-E-LL-O sculptures, head on over to hiconsumption.
And finally…(Yea, I have to stop somewhere) we have the work of Young-Deok Seo. No, it has nothing to do with chewing or sweet treats. It's just so amazing that I couldn't resist. Young-Deok Seo made the sculpture below entirely from bicycle chains.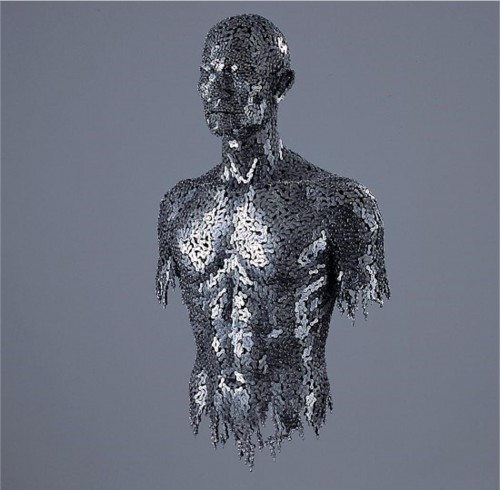 There is plenty more from Young-Deok Seo here and several other places on the interwebs.
In fact all of the artists with the exception of the unnamed lollipop chomper can be accessed just by entering their names in your search engine. In other words, don't assume one site covers all the talent they have. Furthermore, there are many, many other artists that are creating amazing works and they are a mere click away.
Thanks to Weird Asia News for getting me started on this sweeet story.
Associated Content:
EX: Quirky Art
EX: 11 Artists Working In Unusual Media
EX: Pinterest