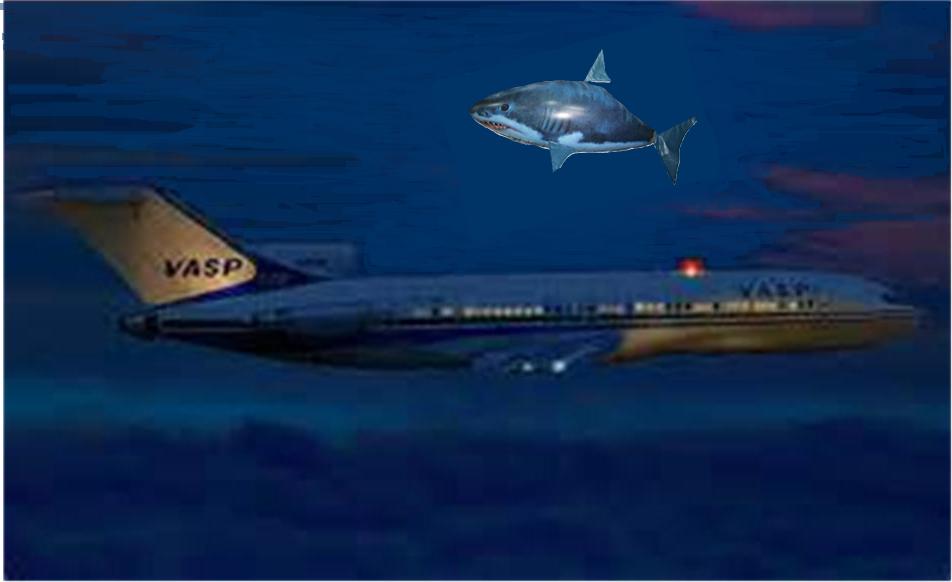 I've often said that we have the best people on the Interwebs here at GhostTheory and one of our readers has just reinforced that opinion.
On May 1, I posted an article about a near collision between an Airbus A320 and a UFO. The A320 was on final approach to Glasgow airport over Baillieston.
It was quite a mystery and in fact, I was expecting the whole incident to disappear into UFO folklore. However, I did reach out to our readers as I often do in these situations and this time it worked.
"I'm sure our readers will have plenty to say and who knows, we may solve the whole thing right here."
Reader Kirsten was quick to respond with a link to a story she saw in The Daily Record. I was literally blown away by what she had found as the pieces of the puzzle all seemed to fit.
It seems a 4 year old named Billy Orsmond (no relation to Donny and Marie Orsmond) was having a ball playing with his remote control shark. You may have heard of these toys that are sold under the brand, "Mastermind Toys" called, "Air Swimmers".
As Billy was flying his Shark around it got free of his control and flew away. It wasn't long after that his father, James saw a report regarding the near miss. As he ingested the story, clues began to point directly to little Billy and his wayward Shark.
Scottish UFO mystery: Little Billy loses grip on helium shark then pilots report near miss with blue and silver object

THE mystery of a UFO which narrowly missed an aircraft above Scotland could lie in the hands of a four-year-old boy.

Neither radar nor the plane's traffic collision avoidance system picked up the UFO.

But a mysterious track, 1.3 nautical miles east of the plane, was reported by Prestwick Air Traffic Control.

And the incident was logged in the official UK Airprox report into aviation near misses.

It happened last December over Baillieston, 13 miles from Glasgow airport.

Around the same time, little Billy Orsmond lost grip of his prized 6ft-long helium-filled shark toy and watched it fly into the air, never to be seen again.

Billy's dad, James, 25, of Baillieston, said last night: "I saw the Record story and just about fell over.

"The report said the object was blue and yellow and silvery. I just thought, 'Aw naw' because that was the colour of Billy's remote control shark and it went missing round about the time of the incident.

"Billy only had the toy for a couple of weeks. It cost about £15 from Argos but the shark was big and would probably look bigger in the sky. We'd just had it re-filled with helium before this incident happened. At the time, I thought that was why it flew out his hands and into the sky.

"We had no idea it could cause this type of thing to happen but the more I think about it, the more I think that is what happened.

"Billy was gutted about losing it and I was gutted for him, too. But part of me was glad to see the back of it. It used to float around the house, turning up when you didn't expect it.

"I nearly had a heart attack one night when I woke up and there it was hovering next to the bed. Billy's mum, Julie, was terrified
of it."

See the conclusion of this story here…
According to flight crew, the A320 didn't miss the UFO by much more than a couple hundred feet. Could it be that Billy's toy actually made it to an altitude of 3,000+ Feet?
In this guy's opinion, chances lie in the 70% range that the "UFO" in question is in fact an inflatable air swimmer. Of course, in order to raise the odds any higher, we'd have to perform several tests with one of these air swimmer sharks, but my gut is telling me it's entirely possible.
Many of you may have one of these toys, I bought two of them last Christmas for relatives myself. Now we may be able to count them as one of the newer culprits in the UFO community.
Quoted material for this article come to us from the Daily Record.
Finally, a big sloppy GT shout out to one of our on the ball readers Kirsten! Thanks Kirsten! Now, get to work solving another mystery, LOL!
Associated Content: