Home » Headline, Mystery of History, Planets, Research & Science, UFOs, Weird news
Mysterious Giant Hole Appears In Siberia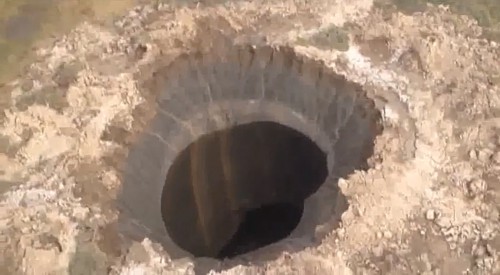 Reports are fuzzy, but they're coming in from around the internet that a large mysterious hole suddenly appeared in the northern area of Siberia. It's estimated that the hole is around 262 feet across and that its crater shows signs of scorched earth. Discovered by oil workers on a routine helicopter flight, the hole has many speculating its origins.
A scientific expedition organised by the Yamal authorities will leave tomorrow to investigate. The team includes experts from Russia's Centre for the Study of the Arctic, the Cryosphere Institute of the Academy of Sciences and Russia's Emergencies Ministry.

The cause of the hole's sudden appearance is not yet known.

Experts said that the darkening around the inner rim of the crater indicated "severe burning" that scorched its edges.

A spokesman for the Emergencies Ministry's Yamal branch has ruled out a meteorite strike and web speculation about the crater indicating "the arrival of a UFO craft" has likewise been dismissed.

Aerial images posted on YouTube indicate a hole up to 80m wide in Yamal, a peninsula jutting into Arctic waters whose name translates as "the end of the world".

–Source: 9News Australia
The following two tabs change content below.
Based in Brooklyn, NY, I write about all things creepy and strange. My book based on the real haunting of Doris Bither (The Entity 1982 movie) will be released soon. Got a question? Drop me a line.
Latest posts by Xavier Ortega (see all)