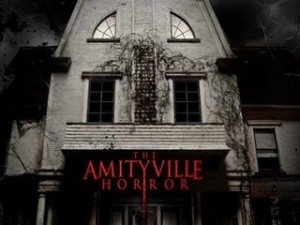 I like how Hollywood sees success in some movie formula (Blair Witch, Paranormal Activity) and rehashes over and over and over again. The other day I watched 8213: Gacy House and I felt that although it was kind of terrorizing at parts, the whole plot and execution of the movie was premature. It lacked depth and character development. Not that I'm a Hollywood writer or anything, but that's what I picked up. It's as if whoever wrote the film wanted to capitalize on the ghost hunting boom and paranormal activity success.
Well the Weisntein Co. is betting that their new paranormal project will bring them loads of money. Set to be released on January 27, 2012, The Amityville Horror: The Lost Tapes is yet another movie based on the popular Amityville Horror franchise. The Lost Tapes is the story of newly found footage in the Amityville house à la Blair Witch style.
Full source: Hollywood Reporter
Dimension Films and Miramax are joining forces to produce the sequel The Amityville Horror: The Lost Tapes.

While Bob and Harvey Weinstein, who head Dimenson's parent, the Weinstein Co., made an unsuccessful bid last year to buy Miramax, which they originally founded, from Disney, they subsequently struck a deal with Miramax's new owners to partner on sequels and TV projects.

Dimension has acquired a new screenplay by Casey La Scala and Daniel Farrands, who are both set to direct the movie, which will begin filming this summer for a projected Jan. 27, 2012 release.

The original Amityville, which hit theaters in 1979 and was based on supposedly true events, has spun off a series of sequels and DVD titles. Dimension rebooted the title in 2005 with a remake called The Amityville Horror.

The premise this time will be built around "found footage" discovered through an investigation into the haunted house. Jason Blum, who has had success in the found footage genre with the two Paramormal Activity movies, will produce along with La Scala and Daniel Farrands. Bob and Harvey Weinstein will serve as executive producers.

Bob Weinstein and Miramax CEO Mike Lang announced the project Sunday in Cannes.

"We are thrilled to return to the mythology of the Amityville Horror with a new and terrifying vision that will satisfy our existing fans and also introduce an entirely new audience to this popular haunting phenomenon," Weinstein said.
22 comments