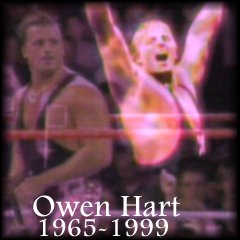 Most of you Wrestling fans remember Owen Hart, the younger brother of professional wrestler and Hall of Famer Bret Hart. Unfortunately Owen Hart had passed away during a stunt in May 1999 at the Kemper Arena during the Over the Edge PPV event. Playing the Blue Blazer, a witness states that Owen fell 80 feet to the ring where he fell head on to the belt buckle post which holds up the rings ropes and flipped to end up lying on his back. Owen Hart was known for his acrobatic moves in the ring, but this was not part of the stunt. Owen was supposed to be making a Super Hero grand entrance which went horribly wrong.
There have been some videos going around youtube claiming that they have captured Owen's ghost. But I have yet to find a solid video to back that claim, although there has been employees claiming that they have seen someone wearing the costume of the Blue Blazer up in the rafters as Owen himself was wearing the night of his tragic fall. There have also been reports of flickering lights and other power sources that have gone on and off in certain areas of the arena.
Mike Young, the assistant general manager at the Kemper Arena said that he has received e-mails of some sightings but only from outside sources and nothing from his employees. For someone to lie about this tragedy and claiming to see the ghost of Owen would be very sad. To this day there had been no attempt to investigate this but i'm sure that one day, someone will. When this day comes we'll find out if Owen Hart is still among us doing what he loved his entire life.
Is the Kemper Arena really haunted by Owen Harts ghost? To this day there has not been any proof of Owen haunting the place where he was last seen and doing what he truly loved to do.