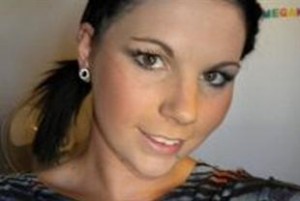 Well about a week after the initial release of the Barwon ghost girl by Australian Ghost Adventures, the truth comes out. Megan Walker is the Barwon ghost girl. Thanks to the anonymous individual who posted here (and at other sites apparently) who drew our attention to Megan's facebook page. A reader of ours, Bekka, submitted the following article:
The digital photo, which was allegedly taken during a ghost tour in Winchelsea, appeared on current affairs show Today Tonight earlier this month.

Adam Harris, a 19-year-old from Geelong, told the Seven Network the image was one of many he had taken at the Barwon Park property.

"I was taking photos because I felt a presence come towards me, as in dark figures," Harris told the network.

One of the photos he claimed he took during the tour last August showed a young woman in a low-cut top looking at the camera.

"There was an image of a girl in the left hand corner of my screen," he said.

But Megan Ann Walker, who is friends with Harris on Facebook, told ninemsn that she is the woman in the photo.

"It's me, but I have no idea about anything else," Megan Ann Walker told ninemsn.

"I had nothing to do with anything and I ain't getting anyone into any trouble for anything."

Walker said she was at Barwon Park during the ghost tour when the photo was discovered.

"I came out and said the photo looked like me when they put it on the laptop but no one was listening," she said.

"I just stood back and laughed and didn't think anything of it until now."

The image has become popular on ghost hunting forums, where Walker has been dubbed "the hottest ghost ever".

"She can haunt me any time!" one ghost enthusiast wrote.

The image has also caused a stir in Europe, appearing in top-selling German tabloid newspaper Bild yesterday.

Australian Ghost Adventures media spokesperson Ron Dorre told ninemsn up to 80 people took ghost tours at the mansion that day, and no individual records were kept of the guests.

He said several people had contacted him claiming to know the real "Barwon ghost", including one who said it was a woman in Western Australia.

"We've been trying to track the woman down for six months, since it happened," he said.

"The people on the tour don't recall seeing her, and it was especially strange since it was a freezing cold night and the photo shows her with a low-cut top."

However, Mr Dorre also said the metadata on Harris' camera showed the photo had been taken before the tour began.

On Facebook, Harris and Walker have several of the same friends and appear in photos showing them at the same parties.

Since being contacted by ninemsn, one of Walker's friends wrote on her Facebook: "I knew this would happen … hopefully it will all die off soon and you will come back from the dead hahaha".

"Haha funny that some people still think it's still real," Walker replied.

Commentators on a YouTube video of a report about the alleged sighting have claimed the photo was part of a deliberate hoax.

"They played a joke and not even the 'experts' were able to tell it was a fake," one viewer wrote.

"I know the three of them and I'm willing to tell people it was a fake."

Another user also said he knew those involved.

"Lmao, I know the three of them, this is f***ing hilarious," the user wrote.

"I can't believe they actually managed to pull this off."
Source: Henri Paget/NineMSN
Who do you point the fingers at in this case? Obviously, Australian Ghost Tours has a huge role to play in this. They should be aware that people will attempt chicanery on their tours, and they are the first line of defense against this type of hoax. But what do they care? They are in the business of selling/facilitating ghost tours. Even with this being a hoax, it was believable in their eyes, thus worth profitting off of. The 'experts' who reviewed this photo such as the ones hired by TodayTonight as seen in my previous article, should find new careers. I was suspicious about this photo from the start, especially with the mention of the metadata being off, and these 'experts' couldn't even suggest that the photo was not 'right'?
In the end, can you really blame these kids? It's a prank for crying out loud. I've done worse to be honest. In the end, they made a believable story and the media bit onto it like a bear trap, courtesy of the unwitting help of Australian Ghost Tours.
12 comments