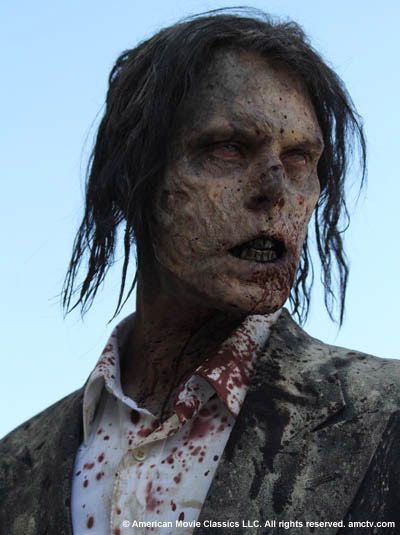 As if I didn't have problems sleeping already…..
AMC television has been busy shooting scenes for their new series "The Walking Dead", based on Robert Kirkman and artists Tony Moore and Charlie Adlard's black & white comics.
From Wikipedia:
The Walking Dead is centered on Rick Grimes, a small-town police officer from Cynthiana, Kentucky, his family, and a number of other survivors who have banded together in order to survive after the world is overrun with zombies. As the series progresses, the characters become more developed, and their personalities shift under the stress of a zombie apocalypse, most notably Rick's.

In the beginning of the series, Rick and partner Shane are in a firefight and Rick is shot and enters a coma. Upon waking in a hospital, he discovers the undead are in the building and town. Rick returns home and shortly decides to go to Atlanta, where the survivors were told to await help, to find his wife Lori and son Carl. He discovers the city is crowded with zombies and bumps into Glenn, a scavenger for a band of survivors. Following Glenn, Rick discovers Lori and Carl are okay along with Shane, who is less than happy that his former partner has returned. He also meets new survivors.

The group search for a place to call home, settling in several temporary camps, including a prison, which comes to the attention of an insane man calling himself the Governor. The Governor runs his local city, Woodbury, Georgia, like a dictator and tortures Rick and other members of his group, culminating in an assault. After the prison is made unsecure by an attack, Rick and the surviving members, after leaving with others to Washington D.C for a chance to cure the infection, encounter cannibals and a township that is enclosed and safe, but holds a secret.
The series is set to premier on October 2010 and looks very promising. The entire first season was written, directed and produced by Frank Darabont (Shawshank Redemption and The Green Mile) as well as executive produced by Gale Anne Hurd. (Aliens, The Terminator, The Incredible Hulk).
During the past few years I've seen several newly released zombie movies and they've all been a poor representation as to what a real zombie movie should be. For example, Tom Savini's remake of Romero's 1968 "Night of the living dead"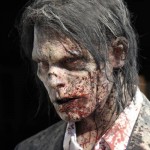 was one of the best zombie films that I've seen. Aside from that, all the new zombie movies that feature mutated and fast running "zombies" are examples of what I mean by bad zombie flicks. One constant complaint (and I know my girlfriend is tired of hearing) is that zombies should act like braindead, emotionless re-animated corpses. Not move like some olympic sprinter.
Either way, I'm glad I have TiVo and will be recording this show. After all, I don't think a late night dosage of zombie gore will ruin my sleep.
10 comments