 As we all celebrate the safe return of 3 missing girls in Cleveland, it's not all good news as a related death may have been prevented if not for a certain well known psychic.
As many of you know, I'm not a big fan of psychics. There are just too many charlatans out there and the bigger the name, the bigger the scam.
Now comes some very somber news from an otherwise joyous Tuesday as an old video of the Montel Williams Show has been dug up. On this particular episode in 2004, the mother of Amanda Berry, Louwanna Miller appealed to world famous psychic, Sylvia Browne for help in finding out what happened to her daughter.
Here's what transpired on that show:
As we can all guess, Louwanna was shattered, but believed Browne. So much so that she went home after the show and began taking down pictures and giving her daughters belongings away according to this republished account from Cleveland.com:
Amanda Berry is dead, psychic tells her mother on Montel Williams' show (republished)

For 19 months, Louwana Miller refused to give up hope that her missing daughter might still be alive.

Not anymore.

Desperate for any clue as to Amanda Berry's whereabouts, and tired of unanswered questions from authorities, Miller turned to a psychic on Montel Williams' nationally syndicated television show.

The psychic said what the FBI, police and Miller hadn't.

"She's not alive, honey," Sylvia Browne told her matter-of-factly. "Your daughter's not the kind who wouldn't call."

With those blunt words, Browne persuaded Miller to accept a grim probability that has become more likely with each passing day.

Miller went back to the West Side home where she had been keeping Amanda's things in careful order and cleaned up. She gave away her daughter's computer and took down her pictures. "I'm not even buying my baby a Christmas present this year," she said.

Miller said she returned devastated from the show, taped this month in New York.

"I lost it," she said.

Miller said she believes "98 percent" in Browne.

"Please don't misunderstand me. I still don't want to believe it. I want to have hope but, after a year and a half, what else is there?" Miller said. "It seems like the God-honest truth. My daughter would always call home."

The FBI and police put less faith in Browne's powers, saying they still will consider Berry alive and missing until her body or evidence is found to prove otherwise, officials said.

Amanda disappeared April 21, 2003, a day before her 17th birthday.

She left work at Burger King at West 110th Street and Lorain Avenue, about a 10-minute walk from home. The 5-foot-4, 110-pound, brown-eyed teen phoned her sister en route to say she had a ride home.

At Miller's request, FBI agents investigating Amanda's disappearance met with Miller after the show to discuss Browne's other psychic views on the case, special agent Kelly Liberti said.

Browne said she envisioned Amanda's jacket in a Dumpster with "DNA on it."

Liberti and Cleveland police spokesman Lt. Wayne Drummond said their law-enforcement agencies listen to all information from all sources, but do not employ or seek the assistance of psychics.

This story was originally published in The Plain Dealer on Nov. 18, 2004. It was written by Stephen Hudak.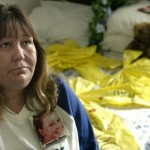 Sadly, Louwanna was not to reunite with Amanda as she died of heart failure just a year after the Williams show. There's already a growing faction who believe she literally died of a broken heart.
It seems more than just a few people remember that show way back in 2004. Now Sylvia Browne is facing a major backlash, which includes fans who are now not so convinced that she's the real deal.
I'll spare our readers the comments on Facebook and Twitter as I'm sure you can easily guess what people are saying. Suffice it to say, Browne probably wishes she could crawl into a hole, but like many before her, she is sly and self assured. Odds are she is planning her next move as we speak and sadly, thousands and thousands will believe whatever tripe she comes up with to explain this away.
So, lets get right to the nitty gritty, shall we? What is Browne's success rate anyway? Well, after sifting through the interwebs and reading lots of obscure open ended predictions, silly claims and just plain garbage, I was able to locate her 2013 predictions.
Drum Rolllll:
• It's going to be a mild winter….and long summer in the Midwest (including Michigan).

• The housing market will improve, and people will start spending more money.

• President Obama will NOT be re-elected as President of the United States. (So much for that prediction Sylvia)

• More tornadoes in Middle America; more hurricanes.

• More earthquakes and natural disasters in Japan. (it's worth noting Japan has more than 1500 seismic activities annually)

• A cure for Multiple Sclerosis will be found. (There is no known cure for multiple sclerosis)

• More research and insights will come out about Autism, which has to do with genetics.
Lucky for me, I kept looking and came across a guy named Robert S. Lancaster, who has built a web page dedicated to exposing Sylvia Browne. I have to say, it's the most accurate reference I've found regarding Browne's predictions.
Here's what Robert has to say in a snippet from his page:
I am a skeptic. That means that I require evidence of something before believing it. And, with controversial topics such as psychic phenomena, I would require very compelling evidence indeed.

So, given that:

1. Sylvia Browne steadfastly avoids any scientific testing of her purported powers.

2. Her performances on television seem to be indistinguishable from "cold reading" (a method used by stage magicians and phony psychics to simulate "real" psychic powers).

3. Her track record of "psychic predictions" (as put forth on her web site and on television and radio appearances) appears to be no better than that obtained by educated guesses.

Given all that, I firmly believe that Sylvia Browne has not shown that she has "real psychic powers", and that she should either prove them, or stop pretending she has them.
Finally, we can't forget the more important news that took place in Cleveland on Tuesday. With that this final video is dedicated to the memory of Louwanna Miller. I hope it makes everyone smile.
Youtube's Billy Jackson as Sylvia Brown:
Sources for this article are as follows:
The Inquisitr
Cleveland.com
WKYC.com
Newdaynewpage.com
The Guardian
Associated Content:
GT: Psychics 2013
GT: Skeptic Receives Death Threat Over Article On 'Long Island Medium'
GT: Video: Eerie predictions From 30 Years Ago sayance