Executive producer of Paranormal State Al LaGarde, said "It's not that we feel that we can come and solve a murder,but we thought we could come and help this family."
PRS lends a hand at trying to solve one of Ohio's cold case files. The death of Connie and Ron Collins.
Both of their bodies were found after a fire burned their home down last year on March 8. The autopsy of their body found that they had been shot prior to their bodies being burned by the house fire, changing this from accident to homicide/arson. The case has not had any leads in the year since the Collins' deaths. This is the reason why the Collins kids called upon Paranormal State. To try to approach this case from a different perspective.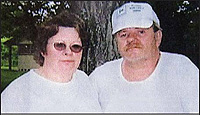 Connie and Ron Collins
From the Columbus Dispatch:
Ron was 54 when he died; Connie, 52. The couple, who married in 2000, lived in Columbus before moving to Roseville. Their deaths were initially thought to have been caused by a fire from a faulty space heater. Their children (Ron also had two sons) thought the deaths were suspicious: Ron had a bad back and usually slept on a couch, but the couple was found in bed.

Autopsies later proved that each had been shot to death before the fire, which was later ruled arson. Lt. Ed Miller of the Perry Country Sheriff's Office said he is "exploring multiple suspects" in the case.

He declined to appear on tonight's episode or discuss the case with the Paranormal crew, fearing it would "jeopardize the integrity of the case." However, he said, "if they wish to try to help us in our endeavor in trying to clear up a case of this type, and they're able to develop usable evidence or information, then we welcome that."

That was also the thinking of Christy, 21, and Connie's daughter Stacey Armbrust, 27, both of the North Side.

"My thing with Paranormal was more 'OK, cool; they're going to bring in a fire investigator . . . maybe they can see something that these guys don't see,' " Armbrust said.

The cable program also hired a private investigator and brought in Chip Coffey, a psychic medium who appears regularly on the series.

Armbrust said Coffey told her that her mother's spirit was still on Earth and angry, trying to make sure her family found out who was responsible.

Christy said she was told her father's spirit had crossed over already.

Her boyfriend thinks that's why they saw a light the night her father was killed. They were in a parked car outside a friend's home near midnight. Christy and her boyfriend, who was close to her father, both saw the light in the middle of the car for about five seconds.

Christy said she still isn't sure what she saw, but since the Paranormal State crew visited in August, she has stopped hearing her father's voice or feeling his presence.

Coffey visited the burned remains of the house and described the events of the night in details that he couldn't have known without coaching, Armbrust said. (She was told he knew nothing in advance, and that claim is repeated each time he appears on the show).

The producers shared anything they learned (including Coffey's sense that a woman in a red truck had been involved) with Miller, who said nothing was new to him.

Even so, both Christy Collins and Stacey Armbrust hope the episode revives interest in the case. Even if neither is sure what to believe about spirits, each woman does think that someone knows what happened to their parents that night.
I still have this episode sitting in my TiVo queue. I'll have to watch sometime today.
Did anyone watch this episode? is so, what are your thoughts about the investigation?
Update:
Ok so I saw the episode last night. Typical shit. They go into the case, don't really provide any tangible evidence that there is some haunting and proceed to add their post-filming sound effects. Throughout the investigation The PRS team can just go by what the tenants were feeling and what they claim to have seen. For us the viewers, we can just go be what the PRS team feels. At one point of the show, Ryan Buell and Chip Coffey go into a bedroom in which they both claim to have seen a shadow go into. Cleverly edited, you see Ryan point his FLIR camera and say something along the lines of: "What is that sitting on the bed…" and then cuts into commercial. After the break, you just hear Ryan tell Chip, "It looked like an outline of a human sitting there" but the PRS team never shows your the scene that should have been captured by the FLIR. Even though you can see Ryan clearly walking into the room with the FLIR camera pointing directly on the bed.
As Parafreak40 said in their comment:
"…The thing I think is odd was the statement by one of the brother's about the ghost of the victim appearing to him and asking him to solve the murder. He said that when he knew fingers were pointing at him…"
It is odd the way both ousted brothers claimed to have seen the apparition of their dead father asking them to avenge their death. It was odd since their parents just came in possession with about $200,000.
The fact that none of the other family members care for them and even go as far as thinking they might have had something to do with the murders says a lot. Plus, I don't think there has ever been a case where a ghost appears to someone and asks them to help solve a murder….at least not when the person claiming this, is being sort of interrogated and is on national television. Never heard of anything like this….maybe in a movie.
Bottom line, this episode left the family (contrary to what the PRS team claims) at the same place they started. Confused and angry.
Paranormal State, Please stop with the shitty sound effects throughout your investigations. It does not add any suspense to your show. well, maybe cheap-thrills for teenagers but other than that it cheapens your image.
40 comments