Unexplained happenings inside a 340-year-old inn, including reports of clothes moving around rooms, have prompted an investigation into the incidents. Local 6 news from Rhode Island is investigating this case along side with a local ghost hunting team.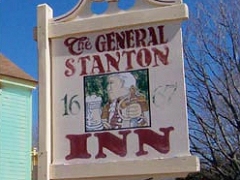 A series of strange encounters have been reported at the General Stanton Inn located at 4115 Old Post Road in Charleston, Rhode Island. It is one of the oldest existing inns in the country, according to its Web site.

A group of paranormal investigators were called to the Inn this week to check recent reported sightings.

"(We are looking) for a chair moving or an apparition or like a table moving," one of the investigators said. "(Maybe) a door closing by itself or opening up by it self."

"I can tell you what (the spirits) are saying and what they are thinking," a paranormal investigator said. "(Also) what they died of and if they were happy or sad. I may be able to channel the person and the person would be able to come through (from spirit world)."

The Inn was also featured on the SciFi Channel show "Ghost Hunters" last year after some strange encounters were reported at the General Stanton Inn and the nearby cemetery.

The team said they hoped to have the results of the latest investigation next month.

Watch Local 6 News for more on this story.
Check Local 6 for an updated result in this case.