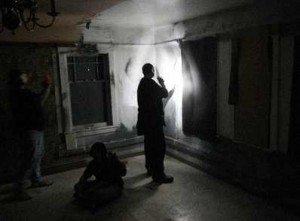 Paranormal investigators search for clues that might signal ghostly activity at Wolfe Manor in Clovis.
The popular investigative team "TAPS" is coming to California. Reports of a paranormal activity in the infamous "Wolfe manor" have been circulating for years. The fact that the manor has been used as a sanitarium, convalescent and regular home in the past was enough to raise TAPS' eyebrows.
Article from the Fresno Bee:
The creepy old house on Clovis Avenue that has been at various times a sanitarium, a convalescent home and a Halloween attraction has found yet another incarnation — a paranormal destination.
Wolfe Manor, a few blocks south of Shaw Avenue, is the site of popular spirit-seeking tours and a Web-based ghost investigation show.
This week, it will be featured on an episode of the Sci Fi Channel's "Ghost Hunters," the leading paranormal investigation show on TV. It airs at 9 p.m. Wednesday.
With all this growing clout in the paranormal world, the plan is to turn the property into a haunted hotel that would attract people to Clovis.
"I get e-mails every day from people," says owner Todd Wolfe. "They're asking 'How do we get reservations?' "
Getting on "Ghost Hunters" — a show Wolfe calls the paranormal equivalent of "Oprah" — is no easy task.
The team behind the show, The Atlantic Paranormal Society (or TAPS), gets "about 1,000 requests per day," says investigator Amy Bruni. Since "Ghost Hunters" has become the most popular paranormal investigation show on TV, people often seek it out to prove or disprove people's belief that a location is haunted.
So while Wolfe Manor's owner and its devotees were writing letter upon letter, trying to get "Ghost Hunters" to Clovis, they also started their own Haunted Wolfe Manor Live, a streaming Web show that airs at 7 p.m. Sundays. (Go to wolfemanorhotel.com for more information and links to the show.)
Now in its second season, Haunted Wolfe Manor Live has a different take from most: Rather than a team of investigators going from site to site looking for spirits, it brings paranormal investigators from various shows and Web sites to the Wolfe Manor, which has boosted its name and reputation in paranormal circles.
It wasn't long before Bruni and TAPS' West Coast team were at Wolfe Manor. After the initial investigation, Bruni sent word back to "Ghost Hunters" lead investigators Jason Hawes and Grant Wilson.
"We told Jay and Grant, 'You guys need to come check this place out. We had some crazy results,' " Bruni says.
That's the type of endorsement that got "Ghost Hunters" top investigators out to Clovis for four days in September.
"It definitely delivered," says Bruni, who took part in the investigation. "I can tell you that something happened in the basement to Jason and Grant that they have never experienced in all their years of investigating."
History and haunts
When Todd Wolfe bought what would become Wolfe Manor in 1997, he had no idea what kind of history the house had. All he saw was the potential for a scary Halloween haunt.
As part of his popular "Scream If You Can" attraction, Wolfe and his crew created their own past for the house, calling it Andleberry Estate.
It wasn't until the city shut down "Scream If You Can" after seven years that Wolfe and paranormal investigators from the area started to unfold more of the house's history.
Through research, they've pieced together that the house was constructed in the early 1920s in a competition between brothers-in-law trying to build the better house. After the Great Depression, the house became both a sanitarium and a convalescent home before becoming dormant until Wolfe bought it.
It was during the run of "Scream If You Can" that Wolfe started to realize there was more haunt to the house than what he had created. He says he was touched by something once while decorating. A few more similar experiences turned a skeptical Wolfe into a believer.
Soon, he opened his doors to Central California Paranormal Investigators to comb the house for evidence with their electronic voice phenomena (EVP) meters.
Terry Campbell was one of the investigators who took a special interest in Wolfe Manor and started doing more research on the house. Eventually he became a tour guide and part of the Haunted Wolfe Manor Live show.
"They call it Wolfe Fever," Campbell says. "People go there and they get addicted to the place. There's so much activity there. It's like it's a paranormal playground."
There are three or four private tours given a week, usually on the weekends. They attract people from the local area, around the state and even from Oregon and Nevada. Regular tours cost $20 per person for one hour. Overnight tours, from 11 p.m. to 3 a.m., cost $50 per person. Reservations are available by calling (559) 394-7778.
During a tour, Campbell or another guide leads would-be investigators, armed with EVP meters or cameras around for a tour that is part history lesson and part ghost hunt.
The tours bring out people such as Erin Turner of Hanford, who went on her first Wolfe tour in September with a group of friends from work.
"As soon as he unlocked the door and I walked through, I swear there was a conversation going on at the top of the stairs," she says. "I was waiting for him to tell us there was somebody else there, but he never did. I heard it clear as day. Immediately, I was on edge."
Later in the tour, she captured an old woman's laugh on her EVP recorder, which she still plays for people.
She's been on two more tours since then and is hoping her Wolfe Manor evidence is corroborated by "Ghost Hunters."
"I'm excited that somewhere close to home is being acknowledged," she says. "Hopefully they find some definitive evidence. But at the same time, now you're going to have flocks and groves of people."
A haunted hotel
When Wolfe saw the commercial last week for the Wolfe Manor episode of "Ghost Hunters," he couldn't help but get choked up.
His reaction: "Oh my God, it's happening. It's finally happening."
Getting on "Ghost Hunters" and gaining the validation that comes with it is just one dream fulfilled, though. The second is turning the property into the Wolfe Manor Hotel and making Clovis a paranormal destination.
"We're down to the nitty-gritty details," Wolfe said last week, after a meeting with the Clovis officials.
Plans include building a 37-room boutique hotel behind Wolfe Manor. It would include a two-bedroom suite, a swimming pool and massage therapy rooms.
The second half of the plan is to refurbish and restore Wolfe Manor, while making four of the bedrooms fit for guests. Brave guests would be able to stay in George's Room or Mary's Room, two of the better known spirits in the house.
Wolfe also is in the process of collecting as much memorabilia as possible from the house's past. He's already got birth certificates of people born there, but he's looking for more old pictures and documents.
"It will be a very positive thing for Clovis," he says. "With a creepy past."
He's not worried, he says, about construction scaring away the spirits. If 30,000 people visited the house annually when it was a Halloween attraction and they didn't leave then, he figures they won't leave now.
Actually, Wolfe is more concerned about the opposite.
"I've been putting this energy out there for 11 years," Wolfe says, "always trying to get people to come to my house."
Full source:FresnoBee