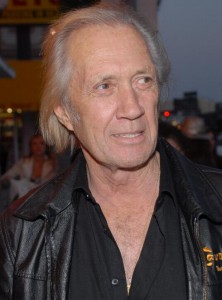 Celebrity Ghost Stories is an interesting show in the Biography channel, in which several celebrities discuss some of their paranormal experiences.
The October 3rd showing will include something which was hidden from the media: The late David Carradine 'Celebrity Ghost Stories' interview.
Watch it.
File this squarely under creepy. A few months before his body was found hanging in a Bangkok hotel room closet, David Carradine sat down to discuss a ghost he believed was haunting him … from a closet.

The interview, taped for the Oct. 3 premiere of the BIO show 'Celebrity Ghost Stories,' centers on Carradine's belief that his wife Annie's deceased husband Dana was using the closet in their bedroom as home base to spook them. In the footage, the late 'Kung Fu' actor describes the "icy cold" feeling he got.

"I think he was hanging out in the closet, and sometimes when I walked into that closet … it would be cold in there, unreasonably cold," Carradine said, according to quotes from the New York Post, which claims it's his final interview ever.

Carradine was equally freaked out by one of Dana's ties that remained in the closet. "[It] was turned around and it had a little logo attached to it … that said 'Grateful Dead,' and I thought, what does he mean by that?"

"It was obviously a joke, that the dead were grateful . . . it was the only way he could communicate [that] he now felt like everything was settled, the kids were taken care of and I was gonna be there for them," Carradine said. "And I will be."

Carradine died of asphyxiation on June 3 after an apparent self-bondage episode went horribly wrong. He was found naked with a rope tied around his neck.

Rob Sharenow, BIO's senior VP of programming, said the network didn't want to exploit Carradine's death, so they held the episode and didn't mention the actor's involvement until now.

"We wanted to be respectful, first and foremost, and to roll the show out as planned," he told the Post.

And "roll the show" they shall, with Carradine featured heavily in marketing materials.

"We're absolutely going to feature the Carradine story prominently the week it airs," he says. "While we don't want to appear as if we were exploiting his misfortune … we don't want to be shy about talking about it."

"It's extraordinary — and people are going to notice it."

Other stars who revealed their own ghost stories include Joan Rivers, Scott Baio and Carnie Wilson.
Full source: PopEater.com
7 comments