A lot of buzz (or should I say marketing) is being made for the new Universal Pictures movie "The Fourth Kind". The movie is being portrayed as factual and a sort of documentary of the mysterious disappearance of several residents in Nome, Alaska. Placing the blame on aliens. Hence the movie title.
Now, for some real facts about Nome.
The 40 year old Nome mystery is full of government conspiracies and cover ups. At least this is what most conspiracy theorists say.
It's true that there has been a rash of disappearances in this remote part of Alaska. About 24 people have been reported missing in the mid 2000s. Are alien beings to be blamed for this? NO. Not according to the FBI.
When the FBI stepped in to investigate the case, FBI profilers dismissed the rumors of a potential serial killer that many thought was stalking the residents in Nome. According to the investigation done by the FBI, "alcohol consumption and a harsh winter" was to blame for most of the missing persons reports. They had ruled out a serial killer due to the fact that most of the cases were accidents or of criminal nature. Most involved alcohol. From Anchorage Daily News for the date of June 30th 2006:
"Of the 24 cases, three are being left alone at the request of families, two had already been prosecuted criminally, and one was a snowmachine accident, said Nome Police Chief Craig Moates. In nine of the cases, a re-examination of available evidence produced "definitive outcomes, " Moates said. He said alcohol was a common factor in those cases."
So with most of the cases being explained away because of crime, accident or runaways where did the alien theory come in to play?
Olatunde Osunsanmi is the writer and director for the film. He's fairly unknown and has directed two other movies:
Etat (Nigerian political movie)
Within (straight to DVD horror)
The movie "The Fourth Kind" is a play on Nome disappearances, written to add to the mystery. Osunsanmi might have made a bad decision writing such a script. I can see why many people could be upset at the fact that their family member's disappearance is now twisted up in some Hollywood crap about aliens taking them away. I would be, I mean…not only is Hollywood being insensitive about the situation and fictitiously creating some absurd story about people's misfortunes being caused by aliens, but they are also passing this off as being true and creating a fictitious story behind it. We all know that not everyone that goes to watch these movies are critical thinkers.
Take this website for example:
AlaskaNewsArchive.com. When you do a Google search for "Nome Alaska UFO" or something along those lines, this is one of the first sites to pop up.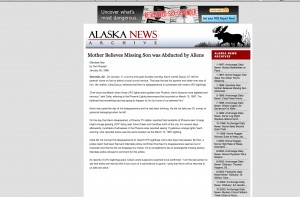 It's supposed to be a website that archives the daily news for Alaska. Looks legit. Some of the news entries go as far back as 1997. Now, I did a quick WHOIS on the domain name and guess what?

Registrar: FastDomain Inc.
Provider Name….: HostMonster.Com
Provider Whois…: whois.hostmonster.com
Provider Homepage: http://www.hostmonster.com/
Domain Name: ALASKANEWSARCHIVE.COM
Created on…………..: 2009-08-12 16:44:47 GMT
Expires on…………..: 2010-08-12 16:44:47 GMT
Last modified on……..: 2009-08-12 16:44:47 GMT
The domain was registered on August 12th, 2009.
Although the website does have legit articles and news reports, it's odd that the majority of them focus on UFO related information.
The movie is supposed to focus on Dr. Abigail Tyler. The following is taken from IMDB:
"psychologist Dr. Abigail Tyler began videotaping sessions with traumatized patients and unwittingly discovered some of the most disturbing evidence of alien abduction ever documented."
I did a search for Dr. Abigail Tyler on Google and came up to History's channel website. Where a forum thread in the "UFO Hunters" section had been going on about the so called doctor. It turns out that if you dig deeper, the only reference to this doctor is from a website called "Medical Journal Archive".
Another WHOIS reveals expected results:
Domain Name:ALASKAPSYCHIATRYJOURNAL.ORG
Created On:13-Aug-2009 21:13:03 UTC
Last Updated On:13-Oct-2009 03:56:32 UTC
Expiration Date:13-Aug-2010 21:13:03 UTC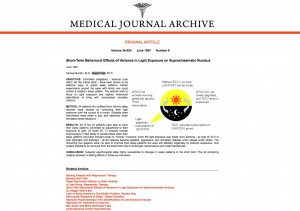 So it's apparent that the new way of marketing these types of movies is to create fictional characters and story lines and and pass them off as legit. Where's the problem in that you say?
The problem lies in the fact that these tactics are selfish and assume that the mass audience is made up of ignorant and gullible people.
Creating fictitious websites with false information regarding real life tragedies is crossing the line in my opinion. What's next? Zombies are to blame for the incident at Chernobyl? I guess we should be on the lookout for Wikipedia having references to this in order to boost ticket sales.
42 comments