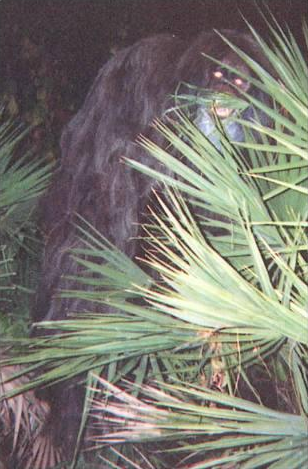 Skunk Ape "researcher" Dave Shealy was recently interviewed by FlashNews about the latest updates on Skunk Ape from the marshes.
"What's a Skunk Ape?" you ask.   More importantly: Who is Dave Shealy?
Shealy is recognized as the leading researching into the Florida Everglades Hominid cryptid known as Skunk Ape. I've seen and read several pieces on Shealy and have not been impressed by the research he's provided.
Case in point: The FlashNews article reads:
"…Shealy says women on their periods should be careful when hiking the area because the cryptoids are attracted to the scent of menstruation.

They're also aroused by used lingerie, so female campers shouldn't hang their panties out to dry because, in his words, "That's like raising a flag and inviting them in."
Wait wait, hold up…Skunk Ape is turned on by lingerie?
what the…. I don't even….how the f…..
Full source: FlashNews
OCHOPEE, Fla. (Wireless Flash – FlashNews) – Bigfoot mating season is underway in the Florida Everglades and the furry, horny creature is out for blood.

Dave Shealy, an RV park owner in Ochopee, Florida, is the leading researcher of the Skunk Ape, Bigfoot's "smaller, smellier cousin."

He says there are seven to nine Skunk Apes currently living in the Everglades and right now is the best time to spot one because it's their mating season.

Lately, he's heard lots of campers report strange sounds coming from the swamps. He figures it's the Skunk Ape's mating call, which sounds like a low-pitched dove cooing.

Though Skunk Apes are generally shy, Shealy says women on their periods should be careful when hiking the area because the cryptoids are attracted to the scent of menstruation.

They're also aroused by used lingerie, so female campers shouldn't hang their panties out to dry because, in his words, "That's like raising a flag and inviting them in."
4 comments