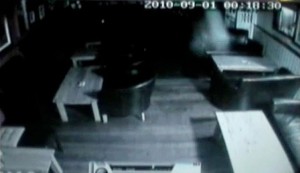 (Cumbria, UK) I've seen plenty of "CCTV ghost" footage through the years. Most are almost identical, in which they show an erratic moving light blue blob on the screen that can be attributed to a bug on the CCTV lens. Especially when the source of the video was UK's The Sun. This time, The Sun published a post of what some claim is a ghost caught on a CCTV system. The difference with this video is that I've never seen such movement being made by a bug or video anomaly to date.
The video shows some type of mist-like object descending from the ceiling and hovering above what appears to be a table in the back of the pub. Moments later, we see some synchronous movement from the mist seconds before it swooshes off the screen. What's more interesting is that the business next door has also reported strange occurrences during the nights. The travel agency employees from next door claim that they've even captured strange lights and poltergeist activity on their own security camera. Although they claim to have video proof as well, The Sun only had access to the pub's "ghostly mist".
Check out the video and let me know what you think. I'm still scratching my head on this one:
Full source: The Sun
LANDLORD Andrew Batemen was left stunned when he checked CCTV footage at his pub — and saw a ghost.

The spooky spirit appeared at 18 minutes past midnight in the Wolfe Pub in Penrith, Cumbria, hovered in the air in the deserted bar for 31 seconds and then shot off.

Shocked Andrew, 38, mentioned the footage to staff at the Thomas Cook travel agents next door who said they had also captured ghostly images on their security cameras.

They believe the building was once used as a funeral parlour.

Andrew, who has run the pub for 17 years, said his Patterdale terrier dog Dudley gets scared when passing through the pub's doors.

He added: "I don't believe in ghosts but this freaked me out."

The footage from Thomas Cook, which was shot exactly a week later, shows a computer mouse move of its own accord across a desk.

The office is then bathed in a soft light as the computer monitor switches on.

Moments later a large sign falls from the shop's front window.

Andrew said of the pub CCTV: "I was with a friend and we were looking at the footage from Tuesday, September 1.

"At 18 minutes past midnight the pub was in darkness.

"I was about to turn it off when my mate spotted something strange. On the screen a glowing shape came down from the ceiling into the lounge and floated around the room.

"At one point, it looked as though it were polishing tables, it seemed to pulse and then boom, it then shot off upwards through the wall and ceiling.

"I don't believe in ghosts but this has really freaked me out. I've looked at a still of this thing as it shoots off and I'm sure that I can see a face.

"What's really strange is that something similar was going on next door.

"Our lounge area used to be part of next door, which I've been told was once an undertakers.

"They showed me their footage when I went in to tell them about the CCTV.

"There is nobody near the computer but it just comes on and the whole room starts to glow.

"Then it gets brighter and brighter and a big sign falls out of the front window. It's strange."

Amy Dryden, 22, who works in the Thomas Cook shop, said: "I have found it difficult to sleep since seeing the footage.

"It's scary. This place used to be a funeral parlour and when I go upstairs to where we keep our brochures I often get the feeling that I'm being watched.

"I was amazed when I saw the CCTV from the pub."

Andrew has been visited by a medium who said she could sense 'visitors' from the other side.
27 comments