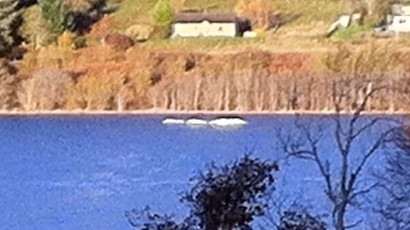 Guess who's back?
Yup, Nessie! The folklore, turned myth, turned hoax, turned sightings, turned reality, turned…whatever monster is back in the news.
Richard Preston is said to be the latest witness to have spotted and photographed what he (and many) believe to be Nessie. While working on the Aldourie Castle gardens, Mr. Preston noticed something surface on the near waters. He quickly snapped a few photos before the object submerged itself. No waves, no ripples and no noise.
As a kid I was a big believer in Nessie, but after finding out about the infamous "Surgeon's photo" I lost hope.
Full source: STV News
The legend of Nessie has resurfaced with a new sighting and pictures of the Loch Ness monster.

Richard Preston, a landscape designer, has been the latest person to spot a mysterious shape that might be the Loch Ness monster and capture a series of images on camera.

While working on Aldourie Castle gardens on the banks of the Loch Ness, 27-year-old Mr Preston spotted a shape on the loch's surface out of the corner of his eye.

He told STV News: "I was just walking through the castle gardens and I spotted something in the distance. When I looked closer I could clearly see the four hump-like features. I thought I'd take a picture of it, to see if there was anything in it, to see what others thought.

"I was surprised that it stayed there as long as it did. I took various shots of it before it suddenly disappeared. I literally just turned my back and it was gone."

He showed one of his friends who was also convinced there was certainly some mystery in the pictures.

When asked whether or not he believed in the monster, Mr Preston said: "Well there's definitely something in the myth.There were no ripples in the water, no boats, nothing around. I have no idea what it was, but it undoubtedly looks like Nessie."

The latest sighting has brought hope to monster enthusiasts, as it had been a relatively quiet spell for spotting any activity in the Loch. Fears had been mounting that Nessie might be dead since reports of any sightings had been diminishing.

In July 1930, three people in a boat at the north end of the loch saw a 6m long hump-like shape travelling fast through the water. In April 1933, Aldie Mackay saw a violent disturbance in the water and a hump "like that of a whale" while driving along the north side of the loch.
8 comments