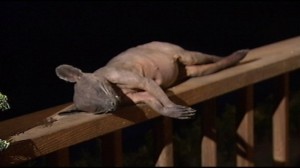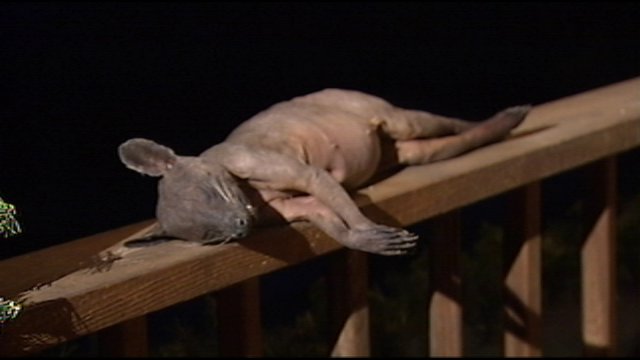 The year couldn't end without another one of these "mysterious creature" or Chupacabras making the news.
This time, a Kentucky resident awoke one morning to find that some creature had died on his property. The creature couldn't be identified by the man, so he started asking around. Word started to spread quickly, as always the case with these news, and now many are speculating that what he found is the mythical creature.
What I've learned in the last few years of covering Chupacabras stories or "strange creature" stories is that they are always, and I mean 100% of the time, a local animal that has suffered from some great disease. Mange is usually the culprit. Sometimes when an animal washes ashore, its bloated and decomposing body is enough to send the locals running.
Full source: Wave3

By Marisela Burgos

LEBANON JUNCTION, KY (WAVE) – Has a mythical creature made its way to Kentucky? Some people seem to think so, after a Nelson County man came across a creature with grayish, wrinkly skin and no fur.

Mark Cothren shot and killed an animal on Dec. 18 because he said he feared what it was, since he did not recognize it. He said the animal walked from the woods onto his front yard around 3 p.m. Cothren lives on Mount Carmel Church Road in Lebanon Junction.

"I was like: 'every animal has hair, especially this time of year!' What puzzled me is how something like that could survive through a winter with no hair," Cothren said.

"Everybody is getting very curious, you know. [The] phone is ringing off the hook. It's kind of a mystery right now," Cothren said.

Cothren described the creature as having large ears, whiskers, a long tail, and about the size of a house cat. He says many people have tried to guess what the animal may be. He said he's heard anything from raccoon to a dog to the legendary Chupacabra.

"Everybody is leaning kind of toward that – it's the Chupacabra! People have come up to me [saying] 'that's what the thing is 'cause I pulled it up on the Internet'" Cothren laughed.

Legend has it the Chupacabra – also known as the "Goat Sucker" – kills goats and sucks their blood. The fabled creature has supposedly been spotted in South America, Mexico, Puerto Rico, as well as Texas and Oklahoma.

"It's hard to judge what an animal is from just a photograph," said Sam Clites with the Louisville Zoo. Clites say he would have to see the animal in person to study it and determine its species. At first glance, he believed the animal could be a raccoon or a dog, but not a mythical creature.

"This is an animal that's native to our area, most likely that is suffering from some type disease," Clites said.

Clites says it isn't uncommon for an animal with a severe disease to lose fur and look unrecognizable.

Cothren says he has spoken with the state Department of Fish and Wildlife Resources and is preserving the animal to hand over to them.
30 comments