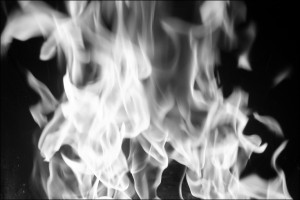 Malaysia, a grandmother has been reporting mysterious and spontaneous fires that spring up all around her house. Her plight is well known throughout the community. Enough so, that even foreigners have extended help on trying to rid her home of these 'spirits'
Zainab Sulaiman has been visited by many in friendly attempts at exorcising her home. Believed to be infested of spirits, Zainab Sulaiman is tired of the hundreds of fires burning or smoldering her belongings.
The phenomena of poltergeist fires is nothing new. Although rare, they have been reported throughout the ages. Now, since there exist a claim of such phenomena, I wonder if any paranormal investigative team in Malaysia will step up and research this further?
Guys?
Full source: Asia One
KOTA BARU – There seems to be no end to Zainab Sulaiman's woes despite several attempts by paranormal experts to rid her of spirits believed to be behind over 200 mysterious fires which have broken out in her home.

On Wednesday night, a group of local Muslim ghostbusters called Darul Shifaq spent half the night in her house at Kampung Penam bang Bunga Emas here chanting Quranic verses.

They also used blessed water to cleanse her ancient collection of keris, swords, and brasswares where the spirits are believed to be staying.

Darul Shifaq leader Zakaria Ya said djinn or spirits rarely possess human beings.

"We have come across this sort of paranormal activity before, and her an­cient belongings may be the cause of the fires.

"Zainab could have inherited ancient keris or swords from her forefathers who could have practised black magic," he said.

Zainab says that the number of fires have increased.

"I counted at least 46 new fires appearing on anything made from cloth at all corners of the house since Wednesday.

"Despite the attempts of Darul Shifaq, the spirits are still here," she said.

Zainab, 73, who lives in the wooden house with her daughter-in-law and two grandchildren, said an American couple visited her recently and offered to help rid the house of the spirits.

"They came here with tour guides at about 7pm, but I politely turned them down because of language problems.

"Furthermore, I am afraid anything I do now may anger the spirits further," she said.

Earlier, a Siamese medium had attempted to chase away the spirits but was unsuccessful.

The fires have destroyed 200 items of clothing as well as prayer mats and two mattresses.
1 comment