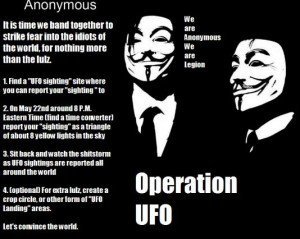 Anonymous is in the midst of planning a world wide prank, this time, targeting UFO enthusiasts and well…almost everyone else.
If you aren't familiar with who Anonymous is, then let me quickly fill you in. Anonymous is the name of an online group of people that come from all walks of life and stand for social justice. Online or offline. This group of people are made up of 'hacktivists' and the curious. But besides the political aspect, they also do things for the "lulz". Meaning that the group of talented anonymous users like to stage big elaborate pranks.
Operation UFO is one of their latest pranks. On May 22nd, 2011 at around 8:00 pm EST the operation is set to commence. The plan is simple, flood UFO websites with fake reports of  a triangular UFO. Then just sit back and watch the world go crazy. LOL.
Is it childish? Yes. Is it funny? Yes.
I think we're becoming a society that is becoming dangerously to dependent on technology. I was at a bar the other night and noticed that almost everyone in the bar was taking pictures of themselves using their cellphones and uploading them to Facebook. Chatting online and browsing is the new thing to do I guess. Given that almost every American is so dependent on the internet for their daily dose of news, celebrity mishaps and knowledge, it's easy to see how this can be detrimental.
On the morning on May 23rd, let's see what major news sites start to report these fake UFO sightings as the real thing. How many do you think will tie them to Obama possibly disclosing UFO files? How many will make a connection with UFOs and terrorism? FOX News….I'm counting on you for that.
So, sit back and watch the UFO world go crazy on May 23rd.
Full source: TNT Magazine
Online hacker group Anonymous has sent out a call-to-arms for its latest prank: attempting to convince the world (or alien enthusiasts, more like) of the existence of men form outer space.

At 8pm on May 22, anyone in on the idea is encouraged to report the same UFO sighting ("a triangle of about 8 yellow lights in the sky") to the relevant hotline or website of their choice. The idea is that the sudden influx of identical reports will convince UFO buffs that contact is finally about to be made.

Meanwhile, KISS star Gene Simmons has softened his opinion on the hackers, a direct contrast to his views when they hacked his site in October.

"I think they mean well, I think it's misdirected," Simmons told defamer.com.au. "You're talking about very bright young people who really have a chance to enter the mainstream and make some money for themselves and climb the ladder of success. If you tear down the structure there's no where to go."

Anonymous crashed the bassist's websites in revenge for a speech he gave urging artists to sue copyright violators into submission.

According to Simmons' lawyer, the attack left his sites down for days and cost the rocker as much as $US25,000.

His October threat read:

"We will sue their pants off.

"First, they will be punished.

"Second, they might find their little butts in jail, right next to someone who's been there for years and is looking for a new girl friend.

"We will soon be printing their names and pictures.

"We will find you.

"You cannot hide."

Simmons said Anonymous hadn't attacked him again.

"They know I'm being watched," he said in reference to a recent FBI raid on the home of a Wahington 15-year-old boy suspected of being part of the group who attacked his site.

"I have big watch dogs."

read more: http://www.tntmagazine.com/tnt-today/archive/2011/05/16/anonymous-plans-ufo-hoax-as-gene-simmons-softens-his-stance-on-hackers.aspx#ixzz1MXB3IjF4
87 comments