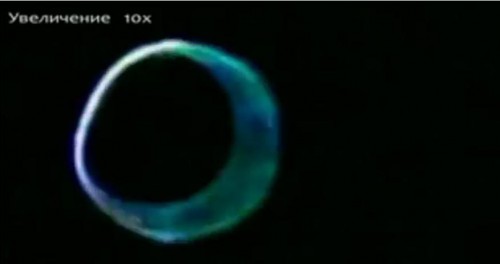 This video was taken on January 23 in the skies above Green Grove Kuvykina.
We don't often see such an odd looking display. Could it be something as simple as an atmospheric anomaly? On the other side of the coin, it does seem to travel along at a fair speed and other than color change, it doesn't appear to change shape.
Here's the video and a bit of background on it:
Halit Safin, a famous photographer in Ufa, January 23, took video of an unusual glow. He phoned a friend and said that in the sky above the street in the Green Grove Kuvykina hours from eight in the evening flickers something unusual. Halit, a child fascinated by UFO, arrived at the place at midnight and filmed on camera lights with shirokofokusnym lens.
As the photographs drew attention to the colors of the object: blue, green, red. A friend stayed in his car to follow the object, and I went home for a long lens to look at what it is. The lens I bought to watch the stars four years ago, here's the first time there is a need to use it in practice.
When Halit returned to his seat, glow in the sky is still maintained, but declined slightly. "I looked through the lens of the neighboring stars, they shone like the object", – said Halit.
For more exclusive information on UFOs, visit: http://x-u-f-o.blogspot.com
Now that you've seen it, I'd love to get everyone's input. I'm sure some of you are thinking that the involvement of a professional photographer makes it a little less believable, but apparently there were other witnesses as described below.
The photographer has published the shot scenes in social networks.
Interestingly, in the comments to write in social networks "OpenID" and there were other witnesses an unusual phenomenon in the sky over Ufa. For example, one girl says: – We are with her friend lying in a hospital 22, 3:00 at night we could not sleep, and we looked out the window at the stars. And notice that this cluster of stars flew into the woods. We thought it was a satellite, but in the morning saw the record.
Here is a news report on the incident from a Russian News Agency:
Thanks to the following sources:
More recent UFO Videos:

Best UK Footage
CNN UFO Report
6 comments