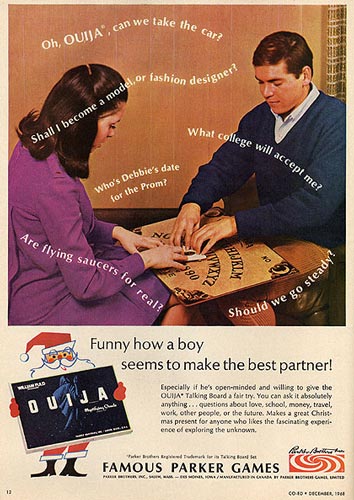 A strange story comes to us from Mcallen, Texas. A fifteen year old kid is being charged with attempted murder after he had stabbed one of his friends in some wooded area near their home. What's bizarre about this story is that the boy went on to tell the police that he had stabbed his friend because the Ouija board advised him to.
"He actually believed what the Ouija board advised him, that the friend was the cause of his problems," Rodriguez said. "That's kind of the incredible part."
Growing up I would always hear stories of the powerful "influence" that a Ouija board can have on a person. Stories of possession or ghostly apparitions always followed the board. Fact or fiction, I believe the boy who was charged with attempted murder might have other skeletons in his closet.
source: Toronto Sun

MCALLEN, TEXAS – A Texas teenager charged in the stabbing of his 14-year-old friend said a Ouija board told him to carry out the attack, police said on Friday.

The 15-year-old boy has been charged with attempted murder after stabbing his friend with a 4-inch knife on Feb. 29 in a wooded area behind a high school in Weslaco, a small town along the U.S.-Mexico border at the southern tip of Texas.

The victim was treated in intensive care for three days for a severe laceration to his intestine, Weslaco police spokesman J.P. Rodriguez said.

The alleged assailant, whose name was not made public, has no history of mental problems or criminal behavior, Rodriguez said.

"I'm not making excuses for the kid, but I think sometimes it's harder for them to separate reality from fiction," the police spokesman said. "This is kind of bizarre."

After stabbing him, the boy took his friend to a nearby auto repair shop so the owner could call an ambulance, Rodriguez said.

A third boy said he witnessed the stabbing, and that his knife-wielding friend told the victim to say he fell on the blade.

Marketed by Hasbro, the Ouija board has a flat surface marked with letters, numbers and symbols. It is used in a seance game that is said to help players communicate with the dead.

Rodriguez called the case "a little eerie" but said investigators believe the boy used the Ouija board to rationalize the attack.

"He actually believed what the Ouija board advised him, that the friend was the cause of his problems," Rodriguez said. "That's kind of the incredible part."

–source: Toronto Sun
5 comments